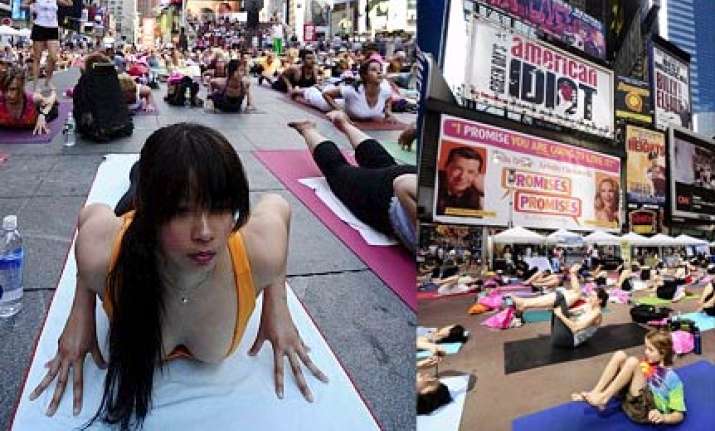 Thousands of people, irrespective of race and creed, took part in an impromptu yoga session at the heart of New York's Times Square to mark the summer solstice on Tuesday, reports The Daily Mail, London.
The free annual 'Summer Solstice in Times Square Yoga-thon' attracted thousands of participants and many more who watched the day-long event.
The massive 'yoga-thon' marks the official summer solstice and the longest day of the year, June 21.
Chilling out: Thousands of New Yorkers take part in a summer solstice yoga-thon in the heart of Times Square
Jennifer Lobo, from organisers Times Square Alliance, said it was an amazing sight as peace descended on one of the busiest places on the planet.
She said: 'If you could create tranquility in the most crazy, high energy place in the world that is a really great oxymoron, or a great opposite.
And stretch: The day-long event brought Times Square to a standstill as thousands took part or watched on
Reach of the stars: The event is in its eighth year in New York and helps to celebrate the longest day
'New York City is known for being a city that never sleeps.
'With taxi horns, construction and every other imaginable source of noise, it is often hard to find a quiet corner anywhere outdoors.
'New York yoqis are some of the best in the world because they can bring that eternal peace to their practice and disregard anything going on outside, noise or whatever it is.'
Tranquil: One New Yorker pauses to reflect as the vast crowd goes through a stretch