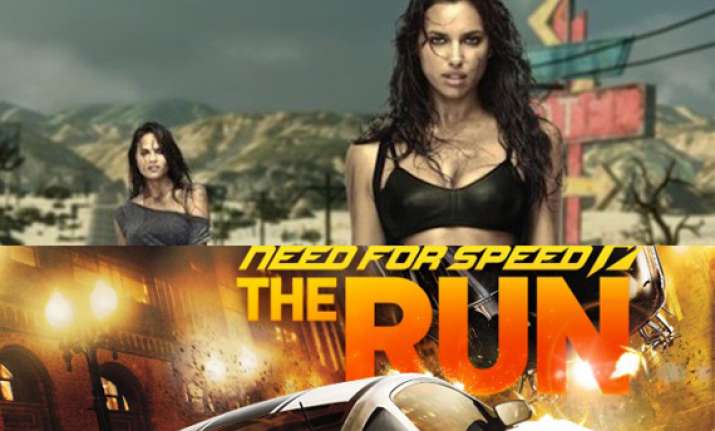 The reigning cover model of the Sports Illustrated Swimsuit Issue is coming to a video game near you.

Russian beauty Irina Shayk did hours of motion-capture acting to play professional racer Mila Belova in the new game "Need for Speed The Run."




"I opened the secret how they did the movie 'Avatar,' because that's how they're doing it," said Shayk. "So we were at the studio in Los Angeles and it was like a, you know, huge room with 300 cameras surround and they was doing the motion capture, so they put me, like, in a black, tight cat suit, and you know, they put on my face, like, over, I think, 200, like, sensors and that's how they captured the motion.

And then in a studio in Canada they built my avatar. And they did send it to me like three weeks ago and they ask, 'Oh, Irina, do you like it?' And I'm like, 'Yes, but my lips look a little bit too big!'"




Belova is just one of 200 drivers game players can select as they try to race from San Francisco to New York and earn a $25 million (USD) prize.

"She's from socialite family, New York, her father is really rich, he has like a collection of cars," explained Shayk. "And one day I went there and I fall in love with the cars. So my character (is) racing for money, $25 million, so it's race from San Francisco to New York, and of course I want to get the money, it's $25 million, but I'm racing for a good cause, because I have a friend whose mother died of cancer and I want to donate this money to cancer foundation."

Shayk said she never thought about working on a video game, but when asked, she was quick to say yes.

"I just love it," she said. "It's something that I never thought that I would be doing, you know, that I will do, and you know, Sports Illustrated and EA becoming partners this year and they decide to do this amazing collaboration and they called me like, 'Irina, do you want to be in the video game?' And I'm like, 'Oh yes, I do,' because it's something, you know, it's something different from modeling and I think I'm the person who loves to try different things."




"Need for Speed The Run" goes on sale November 15. Shayk will also be featured in the next Sports Illustrated Swimsuit Issue, which publishes in February 2012.