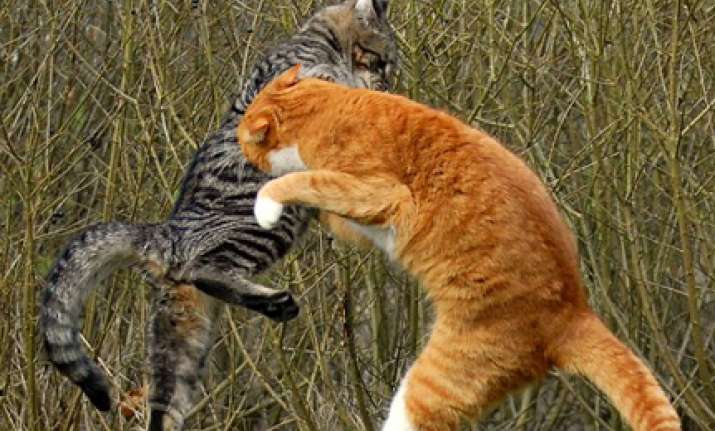 Two ninja cats named Muffi and Tiger flew through the air with teeth and claws bared as they fought kung fu style, reports British tabloids The Sun and The Mail.
The fight took place in the back garden of their owner Mats Hamnas in the town of Helsingborg, Sweden.
Computer programmer Mats Hamnas, 62, insists the kit-boxing cats, aged five and four, are actually friends.  "It's amazing how they move. But when the fur stops flying, they cuddle up."
The cats were caught acting up on camera in scenes reminiscent of the film Crouching Tiger, Hidden Dragon.
Says Hamnas: "In these pictures it looks like they are at each other's throats. I was really surprised how fearsome they looked. Muffi and Tiger actually get on really well, but when you see them in these shots they look like a pair of ninjas attacking at each other's throats."
'I had to get really close to the action to get the shots right, but I actually felt like they were playing up for the camera sometimes.'
Mats said that five-year-old Muffi and Tiger, aged four, love to follow him through the woods near his house in Sweden.
He said: 'They are like dogs sometimes in the way that they follow me through the woods and they are always up to mischief.
'They do fight a lot, along with my other cat Zazza, but I know it's all for fun.