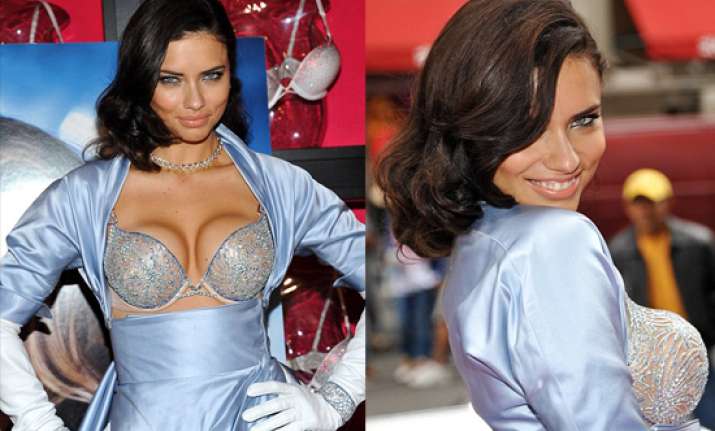 Supermodel Adriana Lima  posed in a dimaond-encrusted bra in New York on Wednesday for Victoria's Secret. The bra was worth $ 2 million, reports Daily Mail, London.
Showing off the glittering bra in a pale blue satin gown, which was cutaway to reveal her chest completely, Adriana attracted plenty of stares from men and women alike as she stood on the pink carpet.
Designed in collaboration with Italian jeweller Damiani, and containing more than 3,000 jewels, the piece took six craftsmen 1,500 hours of work to complete.
Adriana needed a security team just for her bra, with its incredible 142 carats of white diamonds, topazes and sapphires.
It's hard to believe the 29 year-old had a baby less than a year ago, with her incredible slim, toned figure.
Adriana credits little daughter Valentina Lima Jaric, who she had with husband Marko Jaric, with making her more beautiful than ever.
She says: 'Being a mom is the greatest thing that could happen to me now. Now I know what unconditional love is.
'Valentina, she really taught me the real meaning of life and coming back [to modelling] after having her really helped me with my career.
'I feel like a new person. More confident, more patient, more open to people.'
And Adriana claims that rather than make her feel insecure or dowdy, motherhood has only made her feel sexier.
She says: 'I feel at peace with myself – I can't explain. Sexiness is all about attitude. Sexiness for me is all about embracing yourself, embracing who you really are.
'Whatever it is, if you're funny, if you're clumsy, just embrace it and enjoy. And Valentina, she doesn't even talk yet, and she teaches me all of these things.
'Embrace yourself, be who you really are, and that's it. Enjoy life.'
And Adriana has nothing but praise for expectant Victoria's Secret models Miranda Kerr and Doutzen Kroes.
'I'm sure they're going to be great moms. They're very calm, very responsible girls. All I'm going to say, they are about to experience the most beautiful thing that life can offer.'
The Salvador-born beauty is the second highest paid underwear model in the world thanks to her mega bucks contract with Victoria's Secret, coming behind former fellow Victoria's Secret model Heidi Klum.