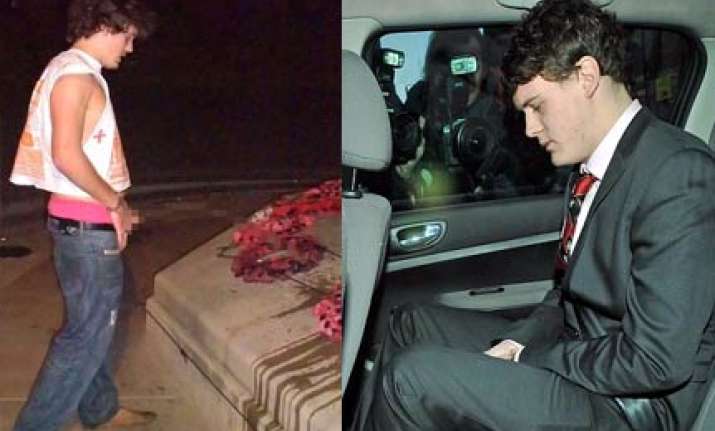 19-year-old student Philip Laing who was photographed  urinating over wreaths of poppies at at war memorial in Sheffield city centre escaped jail sentence on Thursday, The Mail reported.
District Judge Anthony Browne  sentenced him to 250 hours' community service instead.
The judge said he recognised his remorse and took into account the 'wrath and indignation of the public' that had been 'heaped' upon him. 
Browne had indicated at an earlier hearing that the event's organisers, Carnage UK, were lucky to escape prosecution.  On Thursday, at Sheffield magistrates' court, he attacked Britain's binge-drinking culture. The judge told Laing: 'The image of you urinating over the wreath of poppies at the city war memorial was a truly shocking one.  There you are, a young man of 19 urinating on the war memorial erected to honour the memory of so many other young men. I have no doubt at all that you did so because of the vast quantity of alcohol that you had consumed. There was no other motive.  No one forced you to take all this drink or forced it down you or persuaded you to commit a criminal offence. You did that all by yourself and you must take responsibility'.
The judge went on to say: 'But all this is is set against a backdrop of a culture of drinking far too much. In my view something does need to be done to change this culture. What you have done has outraged and offended many, and has saddened most.'
The judge added: 'I have never seen anyone more contrite, nor one who regrets more the hurt and distress he has caused. You have understandably had the wrath and indignation of the public heaped upon you and your family.' 
Browne also ordered Laing to pay £185 prosecution costs.  He told him he had already been 'significantly punished and castigated' and the most appropriate punishment was an order to do public service work within a charity.
Outside court, Laing's mother Kathleen said: 'He's sorry, he's very, very sorry.' At an earlier hearing, Laing, of Macclesfield, Cheshire, admitted the charge of outraging public decency. On Thursday, he sat in the dock, head bowed for most of the hearing, wearing a smart grey suit.
The sports technology student at Sheffield Hallam University was among 2,000 students who paid £10 to take part in the organised bar crawl in Sheffield in October.
He began the evening by sharing a bottle of whisky with friends and went on to play drinking games and to drink vast amounts.
Laing told probation officers all drinks were £1 on the night. He was said to have no memory of the urinating incident, which happened after he collapsed in front of a shop window and was helped to his feet.
The incident was reported to security staff who washed the memorial. Prosecutor Ian Conway said that when interviewed by police Laing, whose grandparents were in the Second World War, told them: 'I was very, very drunk.'
Laing may yet be forced to leave his university course. A spokesman for Sheffield Hallam University said: 'The university has already initiated disciplinary proceedings. Now that the judicial process has been completed we will arrange a disciplinary hearing to decide appropriate sanctions.'