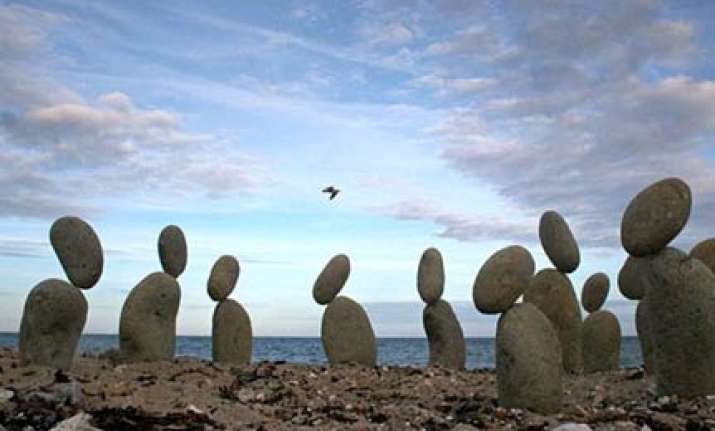 This is just one of the several stunning stone artworks created by Adrian Gray, one of Britain's odd artists, reports The Mail.The  amazing beach of Dorset, accessible only by boat or a treacherous climb, is Gray's canvas.  
Gray has an unusual artistic technique. He puts big rocks on top of other big rocks. Then he photographs the results and sell the images. Look at the images here. Surely these rocks - virtually floating on air - cannot possibly stay standing? Just what is holding them in place?
There is no cheating involved in any of the photographs. No steel rods, no magnets, no computer trickery. The only glue he uses is Nature's. Gravity. 
By very carefully 'feeling' the balancing point of each rock he handles - a process that requires awesome skill and patience - Gray is able to arrange them in ways that seem incredible. Imagine trying to balance a chest of drawers on just one of its legs, on top of a boulder, and you get an idea of what Gray gets up to.
'There is a real sense of wonder,' says Gray, 'when I balance two rocks in such a way that it gives the impression that it's impossible for them to stay in place. I don't want to sound pretentious, but it makes the sculpture seem almost alive.' 
Do people think he cheats? All the time.
'People think I use everything from Blu Tack to Velcro to steel rods. While I'm balancing the stones, I can hear people saying: "He's waiting for the glue to set."'   
Only patience, dexterity and what Gray calls 'listening with my fingers'.  He's not even very good with theoretical physics.  
After a brief conversation about centres of gravity, he admits that he failed his O-level in the subject.  
In his Indiana Jones hat and sunshades, Gray is also sweetly modest about his skill.
'The trick is putting together stones which look like they couldn't possibly sit on top of one another. Only then can you you make something extraordinary.' 
Forty-four-year-old Gray lives an extraordinary life.
Home is a one-room limestone house carved out of the cliffside above the beach, half a mile from the nearest public road. There's no electricity beyond that provided by one old solar panel that powers two dim lights for a few hours a day. 
Television is out of the question, though he does have a woodburning stove and a gas supply that enables him to boil a kettle.  
He used to run an expedition company and, for years, escorted backpackers through the Madagascan rainforest.  
Then he caught a nasty virus - and the world he knew came crashing down around him. Though cured of the tropical bug, he succumbed to post-viral ME and became, he says, pretty much allergic to modern life.  
Electricity, TV, laptops, even mobile phones brought on headaches, nausea and mood changes. The only way of avoiding these things, he felt, was to opt out of mainstream society. 
He had friends in Lyme Regis, so moved there - first to a shack, then a yurt in a friend's garden, and then the clifftop home where he lives today. And that was when began his work with the stones. Though his allergy symptoms have all but passed now, he doesn't want to give up his hill-top life.        
My sculptures don't need any complex deconstruction; they don't need any exhaustive explanation. They are what they are. People look at them, understand them and see the beauty in them. You don't have to read a pamphlet explaining what you're seeing. My art's not like that.'  
Videos:
One, Two, Three, Four, Five