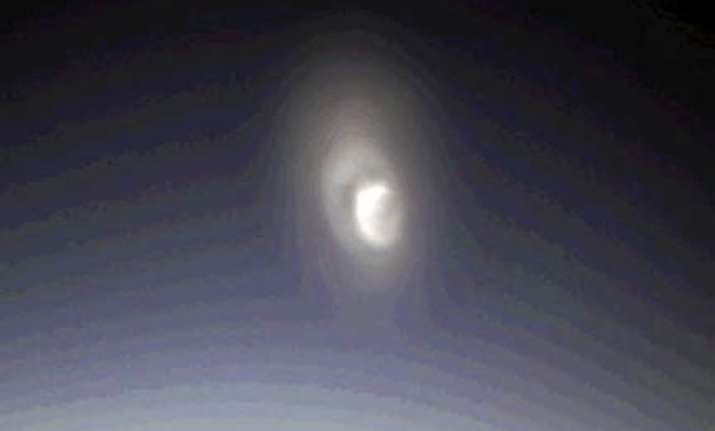 Scores of people across Australia's east coast say they saw bizarre yellow-green light zooming across the sky "like a lollipop swirl" early Friday morning.
The light trail was seen between 5.45am and 6am by people in Canberra, Sydney's north shore and Queensland, ABC News reports. 
The purported UFO moved across Brisbane's skyline as the sun was rising on June 5, 2010. Destin Sparks of Wavell Heights spotted the UFO from Mt Coot-tha about 5:50am AEST.  
Several ninemsn readers said they saw the mystery light. "It was moving west to east with a jumbled electronic sound," Jim White said.
Hayley Farry said she and a group of friends saw the light while out jogging. 
"It was really weird, like nothing else I had ever seen before," Ms Farry said."We were trying to guess what it may have been, we were convinced it certainly was not normal." 
ABC Radio Brisbane 612 caller Linda said the light travelled from the west, headed east and then out to sea."There wasn't a cloud in the sky — just this light with a swirl in the middle," she said. 
Another caller said there was no noise in the sky as the light passed over."It was like bands of ribbon coming out of it and it looked like it was coming through a cloud, yet there were no clouds," she said. 
Canberra local James Butcher said the light had a bright centre that resembled a star. 
"The colour was yellowish but this may have been blurred and tinted by the morning fog," Mr Butcher said.It is not clear at this stage what the light was.   
Some Australians are afraid that the strange bright lights seen in the Northern Territory sky at night might be the prelude to an extraterrestrial invasion of the area. 
The mysterious "flares," which have been seen along a 360 kilometer stretch of Northern Australia called the Top End coast, have prompted alarm from some who believe the strange lights mean an extraterrestrial invasion is imminent.  
Australian authorities disagree, saying the lights were the result of meteors.  
An unknown number of witnesses reported the "flares" to Northern Territory Police this past week. May 25th was a busy day for sightings, and police were reportedly looked for boaters in distress but did not find anyone needing help. 
While Unidentified Flying Object sightings in the Northern Territory appears to be relatively common, sightings have been thick over the past few months. In March, there were reports of a UFO or two hanging around a nuclear waste site.  
The man who reported the lights, Ray Alett also told NT News that he had seen unusual lights in the night sky since he had moved to the area 13 years ago. April 23 and 24th were also busy nights for sightings, reported NT News.