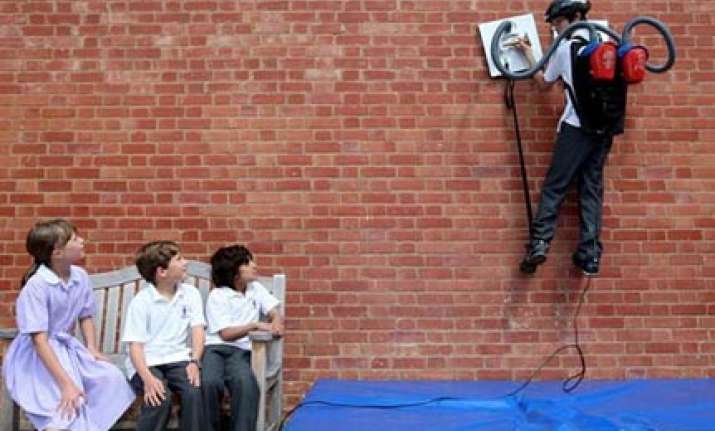 Schoolboy Hibiki Kono in Cambridge turned his childhood fantasy into reality after using his design technology lessons to build a suction contraption that lets him scale walls like Spider-Man.
The 13-year-old told how he fulfilled his dream of climbing buildings like the fictional web-spinning super hero by designing a backpack-mounted gadget that harnesses the power of two cut-price Tesco vacuum cleaners to pin him to the walls using wooden suction pads attached to the vacuums' nozzles.Hibiki then dazzled classmates by demonstrating the device's power by climbing the school wall during morning assembly. 
On Monday, the schoolboy told how he had grown up watching the Spider-Man movies and reading Marvel Comic strips about the superhero's feats which had left him in thrall of his special powers. 
Hibiki said: 'I used to dress up as Spiderman when I was younger and I love all the films so it's great to be able to climb walls like him.
'I wanted to make something a bit different and I designed most of it myself. 'My mum thinks it's brilliant but she won't let me us it in my bedroom as she is worried I may pull down the ceiling. 'I've climbed up the school wall but I'm not allowed too high. It's not scary and I completely trust the machine.' Hibiki spent five months working on the device at King's College School in Cambridge. 
He came up with the idea after television presenter Jem Stansfield demonstrated a similar device he had built for BBC1's Bang Goes The Theory science show last year.  
Hibiki, who lives with his mother in Cambridge, set about designing his own version, based on what he had seen on television, while his friends stuck to more regular design projects such as coffee tables and remote controlled boats. He used two 1,400-watt Tesco Value vacuum cleaners, bought for £14.98 each. 
A nozzle from each machine is then attached to each pad, creating a powerful suction effect when the vacuum is switched on and the pad is pressed tightly to the wall.
The wooden pads have a rubber seal to give increased grip and the suction is strong enough for one pad to support Hibiki's weight. 
To move higher, Hibiki switches the vacuum supplying his 'free' hand pad off, allowing it to be released from the wall on its own, without affecting the other pad's suction.Each pad is attached to a stirrup, to allow him to move each leg in tandem with the corresponding arm.  
His design technology teacher Angus Gent said: 'I'm hugely proud of him. When he came to me with the idea at the beginning I had my doubts, but once he proved it could be done I encouraged him.
'The device is based on the one Hibiki saw on television but he has developed it all himself, which is amazing for someone of his age. 'He has spent two-and-a-half hours a week creating it over the last five months.' 
King's College School was founded in 1441 by King Henry VI to educate the 16 choristers who sing the services in the chapel of the college, which the king established the same year.  The 400 pupil school remains a part of the Cambridge University college, with King's provost acting as its chair of governors.  
Headmaster Nick Robinson said he was very proud of Hibiki's invention.'We're thrilled with his original thought and all his hard work,' he said.
 'He shows a real flair for design and inventive thinking. He went up a wall for assembly and it was amazing.'
In February, Stansfield, 39, drew gasps of admiration from onlookers after he demonstrated his machine during the Brighton Science Festival Programme when he scaled a 30ft school wall to retrieve a shuttlecock from the roof. 
The presenter, an aeronautics graduate who used to devise special effects for films before becoming a television presenter, said he came up with the idea for the device whilst 'doing a challenge to make superhuman powers out of junk'.  Supportive Story: Jem Stansfield didn't need superhero powers to scale the walls like Spiderman - just a couple of vacuum cleaners.
The scientist, a presenter on BBC One's Bang Goes The Theory, amazed onlookers by climbing up the side of a wall in a school.His modified Tesco vacuum cleaners worked like giant suckerpads and allowed him to climb the wall with ease.
Stansfield, who was taking part in the Brighton Science Festival Programme, said: 'I came across the idea for the vacuum cleaners when I was doing a challenge to make superhuman powers out of junk. I worked out the vacuum cleaners could support my weight. 'I attached pads roughly the size of tea trays to the nozzle and realised they pressed tightly against the wall and could hold me.' 
He first performed the stunt on the side of BBC building in White City for the TV show Bang Goes The Theory in July 2009.  Festival organiser Richard Robinson was amazed as he watched Mr Stansfield whizz up the wall like the human fly.
He said: 'Everyone else, myself included, laughed at him. We didn't think it would ever work, then we turn around and he was climbing a wall.' Jem hopes his wacky creations will inspire future scientists to think outside the box. 
He said: 'I hope activities like this teach children that if you understand the world around you, you can make it work for you. 'Normal boring day-to-day objects can do exciting things for you.' 
Jem has a degree in aeronautics and will be putting his brain to good use for his next stunt - when he drives a car powered only by coffee beans from London to Manchester.