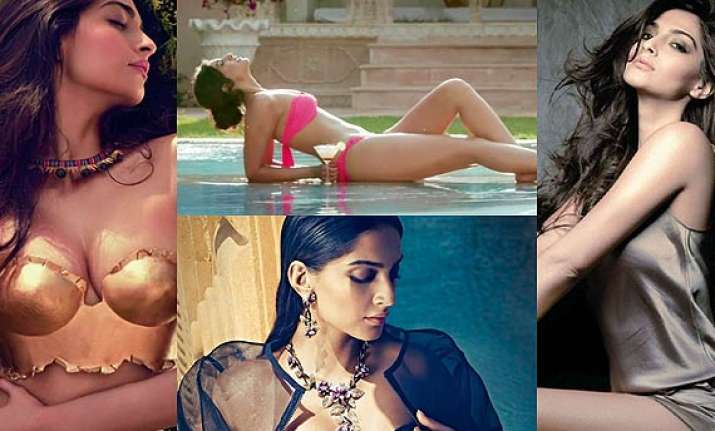 New Delhi, The fashion icon of Bollywood Sonam Kapoor turns 28 today.
After proving her acting prowess in the movies like 'Sawaariya' and 'Ranjhanna' ', the actress is set to sparkle in her upcoming film 'Khoobsurat', which is already in buzz as it is the remake of 'Khoobsurat' starring Rekha. 
Known for her legacy in fashion and style Sonam Kapoor has always looked stunning. Her perfect combination of oomph and glamour has always spread magic with her appearance.
In 2007, Sonam Kapoor made her Bollywood debut in the Sanjay Leela Bhansali film Saawariya opposite Ranbir Kapoor.
Today on her 29th birthday, we bring you some of her hot and sexy pics which only a die-hard fan would have witnessed.
Sonam Kapoor, declared as an all time fashionista by many style pundits of the nation has done a steamy hot photo shoot recently.
Going the extreme sensuous way, Sonam has covered the June 2014 issue of 'Prestige' magazine. For the cover, the actress can be seen flaring intense expressions donning a
Morphe by Shenali Ali.Roasting her uber sexy image in the inside pictures, Sonam is spilling every bit of her royal elegance, termed by the magazine as 'Bollywood Royalty's New Sexy.'
Have you ever thought of Bollywood fashionista Sonam Kapoor applying men shaving cream on her pretty face? If not then she has proved you wrong. Recently Sonam was caught shaving her face.
The actress got quirky for photographer Rohan Shrestha's photoshoot with an eccentric idea. Even in this wired photo shoot she managed to look extremely hot and sexy. 
Sonam Kapoor, who played the lead in the film had done just apt with her ultimate fashionista image by donning a sizzling pink bikini. Sonam Kapoor looked scorching hot look in the film.
 So far, Sonam had been in the news for her whacky dresses, but this photoshoot takes the cake.