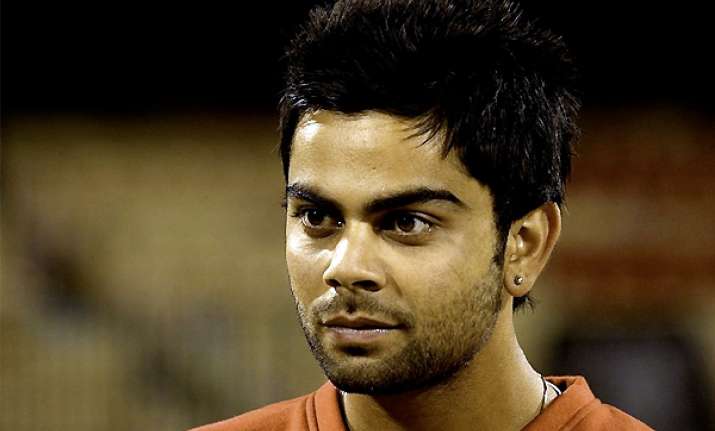 New Delhi, Mar 15: The latest heartthrob among Team India cricketers Virat Kohli is getting a bit too much female adulation.

In an interview to Times of India, he was asked: "Do you also have to think twice before stepping out with a female friend?"

His reply was : "Uh, you do.You have to think about it a lot, because you might be hanging out with a friend, and if someone gets a picture, it becomes an issue or a link-up. You have to be very careful".

Asked if he gets a lot of female attention, he looked abashed and said: "Yeah, Sometimes ham hi ko sharam aa jati hai, women come up to you and say such bold things, right out."

Asked whether he let all of this stop him, if he finds someone interesting, his reply was: " No,of course not,why would I let it stop me I'm 23. After all, I'm human!"

Asked whether too much attention from fans  irritate his family or friends, Kohli replied: " I go out with my family, and they're used to it now.

"But at home, my mom gets annoyed when people just ring the doorbell 15 times a day.

"Kids come for autographs all the time".

Asked about his family is getting wedding proposals by the dozen, he replied: "Nahin,rishta mujhe toh pata nahin. I think a few people have tried to convey the message that they have a daughter in the family and stuff, so my mom told me... It's funny because I've heard of these things before, and to get something like this yourself, it's funny, so I just laugh them off."

Are you not serious about marriage, he replied :" Not at all I'm 23".

The tattooed lad from Punjab, says the report,  was unruffled by the large crowd at the opening of his friend Navneet Kalra's third Khan Chacha outlet in Select Citywalk, Saket.

"I've known Navneet for about four years now. I loved the kebabs at Khan Chacha since before that."