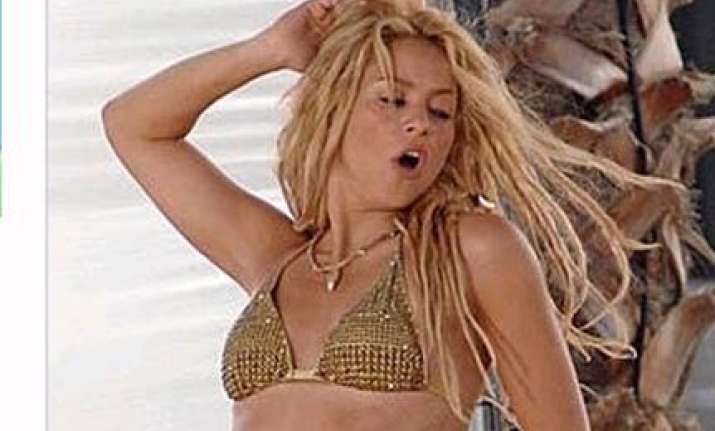 The sight of Shakira splashing around in a fountain is not the kind of thing that would upset most people. If anything, the opposite is the case.
But spoilsport officials in Barcelona have seen the Colombian singer shooting her new video and they are not happy about it.
After seeing YouTube footage of her dancing in the famed Pla de Palau fountain with fans and riding on the back of a Harley  Davidson motorcycle without a helmet, Shakira, 33, could face fines from the health and safety brigade.
Shakira is in the Spanish city filming her latest music video for the track Loca, but fans who witnessed the fountain frolicking posted videos online.
One city council member pointed out that Shakira 'did not even ask permission to film' in the landmark and could be fined as a result. The authorities will assess the video and could punish 'those responsible.'
'When asking for permission in Barcelona, you can take this kind of footage without problems,' the council member added. 'We will analyze the images to detect infringements that have been committed during the recording of the spot.'
Shakira was also pictured zooming about the city on the back of motorbike without mandatory head protection.
The council has complained that Shakira 'does not lead by example' being 'a public person.'
Hips don't lie! Shakira unwittingly reveals stretch marks on her snake-hips 
But South American songstress Shakira is as unlucky as the rest of us when it comes to getting stretch marks.
The 33-year-old Hips Don't Lie singer unwittingly revealed a smattering of the marks as she filmed her latest music video.
Her low-slung trousers unveiled a trail of silvery marks around the top of her hips.
Stretch marks, or striae as they are known medically, are a form of skin scarring. They appear when the skin is rapidly stretched through weight gain or growth spurts.
Watch Video
Model and actress Kelly Brook showed that she too is a stretch mark sufferer when she appeared at a Hollywood awards ceremony in a low-cut dress last week.