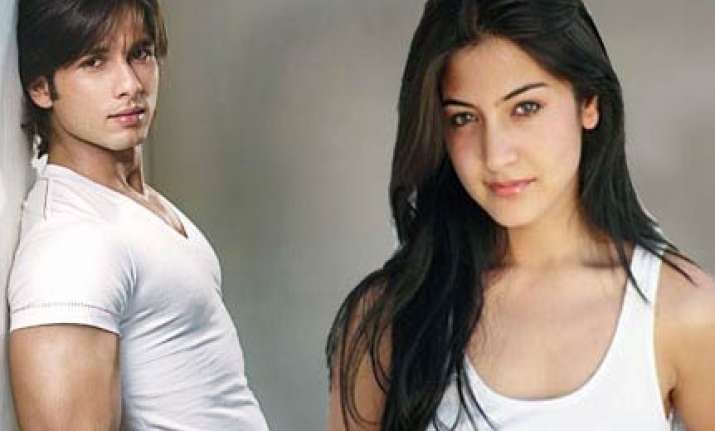 Bollywood Shahid Kapoor averted a major mishap on the sets of Badmaash Company when a chandelier crashed inches away from co-star Anushka Sharma, reports Mumbai Mirror.
Chandeliers have been a regular prop in Bollywood. People have periodically swung off them or the really ornate ones are used as embellishments to add to the already opulent décor. 
Anushka Sharma will always remember the prop with a shudder. On Sunday evening, Anushkha, who was shooting a music video for Parmeet Sethi's Badmaash Company, escaped a chandelier catastrophe at MT Studio in Andheri (East).
Shahid and Anushka, under the supervision of choreographer Ahmed Khan, were moving towards a pre-decided spot almost underneath a huge chandelier. To everyone's shock, the chandelier suddenly came crashing to the ground. It would have gravely injured Anushka if it hadn't been for Shahid's quick reflexes - he managed to push the utterly petrified Anushka out of harm's way. 
Said choreographer Ahmed Khan, "Sasha (Shahid) didn't push Anushka away. He pulled her towards himself just in time. Actually, it was partly my fault. My instructions went a little awry. Anything could have happened. I hope we finish the song without any more problems. This is the third mishap on the sets."For her part, Anushka said, "Shahid reacted very quickly. Luckily no one was injured."But the real-life hero played down the incident. "It was nothing major," said Shahid.
Incidentally, this is the second time within a year that Shahid has come to his leading lady's rescue. During the shoot of Vishal Bhardwaj's Kaminey, Priyanka Chopra was driving a scooter with Shahid as the pillion rider when she lost her balance and fell. She could have sustained a major face injury if Shahid had not buffered the fall with his hands. "It's what anyone would have done, given the situation," said Shahid.