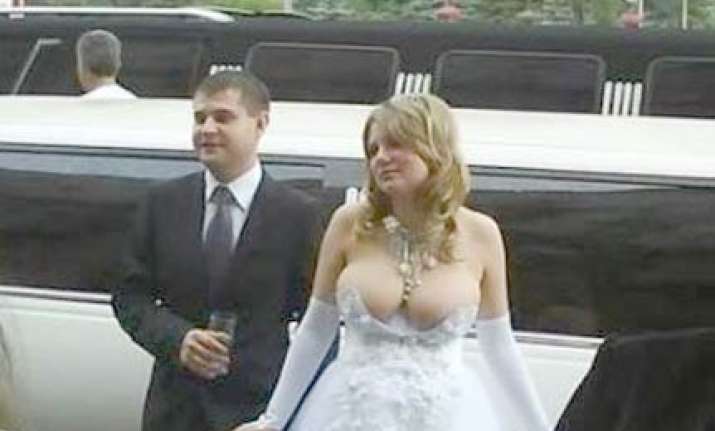 An unnamed Russian bride wearing a revealing wedding dress has become an internet sensation, report The Telegraph, London.
The picture was originally posted on Wedinator, a site dedicated to showcasing wedding photo disasters from around the world, but the pic has has now been reposted on hundreds of blogs across the web.
The unnamed woman is shown getting out of a limousine wearing a white dress, the top half of which consists of two small, strategically positioned semicircles over a dramatic embonpoint, the report said.
Fashion commentators on the internet have not been uniformly complimentary. One, the author of a blog post called "The Five Sluttiest Wedding Dresses", describes it as "the equivalent of the groom wearing a codpiece".
Others have wondered whether the choice of a white dress is perhaps misleading, while others make the inevitable puns: "They make a lovely pair" seems to be the most common.
Wedinator, which has been running since February, includes among its other catastrophic nuptials a video of a "public proposal gone hideously wrong" , and CCTV footage apparently showing a bride cheating with the groom's best man during the reception.