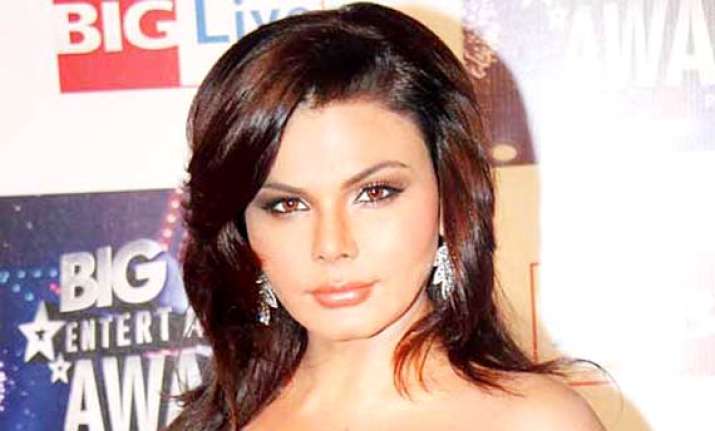 New Delhi: The lady with the bold and outspoken characteristics, the one who shares a great camaraderie with the media – Rakhi Sawant has so far shown her own stances of garnering popularity and nuances of possessing extraordinary courage.

From her raunchy 'Dekhta hai tu kya…' to her much talked about 'kiss' controversy and once talk-of-the-nation 'Swayamvar', everything has added up to create more and more outrageous stints.

Here on the birthday of Bollywood's one of the most lovable drama queen, we present you all the controversies that hot Rakhi Sawant generated and carved her presence in the audience's psyche.

Rakhi-Mika kiss

One of the evergreen hot issues that spilled fire in air, Mika-Rakhi kiss remained a much talked about controversy for a while.
Pop singer Mika, who kissed the hot babe in his birthday party gave strong offense to the lady and Rakhi even filed a police complaint against the singer.

Though the matter got resolved later, the controversy gained a high amount of voltage and pushed Rakhi's career in the industry.

Rakhi-Abhishek affair

Rakhi had quite a long affair with her model-actor boyfriend Abhishek. While the two participated in a couple dance reality show, their sizzling chemistry and scorching hot performances were deeply appreciated.
But later, as per Rakhi's cliché doings, she made her relationship controversies public through media by slapping Abhishek in front of the camera and even abused the man.

Rakhi ka 'swayamvar'

Indeed a great step to add much glimpse in the already controversial life, Rakhi decided to get married on screen and had 'swayamvar'.
That's a different story all together that why did that whole relationship turned into a gimmick and not sustained later, but Rakhi's typical Indian 'bahu' avatar got many thumbs up from the audience.