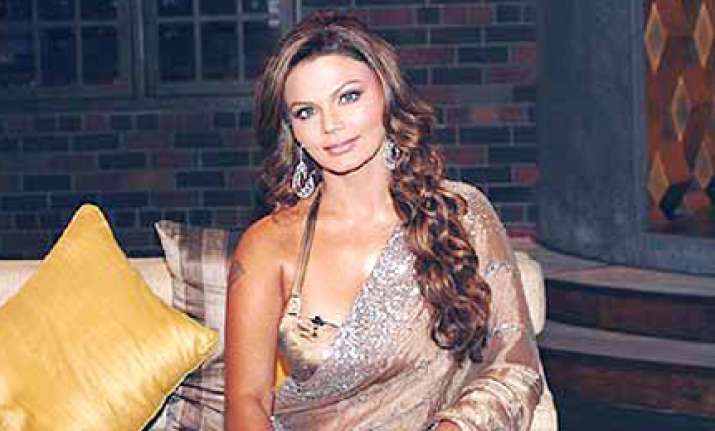 Item girl Rakhi Sawant goes into her second reality show from Wednesday. It's a show about parenting with Rakhi and Elesh playing mother and father. 
Says Rakhi:  "I've a migraine problem. When a child cries I get a severe headache. I don't know how I'll manage for a month with a stranger's child. On top of that I've to cook on the show. I can't cook to save my life."
Rakhi adds:  "Apna bachcha to har koi paal leta hai, jaanwar bhi. I don't know how I'll cope. I think I'm going to lose my cool completely.  So far people have only seen the good Rakhi Sawant. Now they'll see the real me.Elesh returned from his sisters wedding on Tuesday night. We enter the show from Wednesday. I don't know how I'll manage. This show is already giving me a headache. I can't even use makeup. Can you imagine Rakhi Sawant without makeup?"
Rakhi was supposed to visit her reality-show fiancé Elesh's home -town in Toronto. "But I couldn't get a visa from the US to Canada. I had to really get pushed around for my US visa. It was impossible to get a visa from the US to Canada. 
Elesh's family was very keen to have him over. They came for my Swayamvar all the way to Mumbai.And I couldn't for them. But no problem. As soon as my new reality show Pati Patni Aur Woe is over I'll visit his family in Toronto with Elesh."
Rakhi says she'll marry Elesh only when he becomes economically self sufficient. "It's my life and a decision like marriage should be left to me only. Elesh may be the best person in the world. But he may not be be the best person for me. I don't want him to be another Abhishek Awasthi in my life. Yes, we're engaged. I like him a lot. But how can I hand  over my life to someone who isn't earning a proper living? That's why we're going on another reality show to see whether we're really as compatible as we seemed on Rakhi Ka Swayamvar. I didn't get enough time on him on that show. You and I saw his best face. Now I want to see the real Elesh. I want to marry a man who can support me. When we go to a restaurant he should pay the bill, not me.  In India wives are supposed to be looked after by husbands, not vice versa. He has seen how I live. I don't want him to come and stay in my house I want to live in his house. I will wait for him to afford a house. I will wait."
Rakhi is specially worried about Elesh accepting her sexy image. "On the internet they've morphed my face on naked bodies. Would Elesh be able to tolerate it? He's broad-minded, yes. But God knows what he'd be like after marriage."
She bursts into tears. "Mere dil mein bahut taqleef hai. Will Elesh be able to support me financially? I don't want him to be known as Rakhi Sawant's husband. Mujhe waqt chahiye. I feel I'm stuck in a stormy ocean. I can't climb the cross just to please public. I agree Elesh is educated and he comes from a wealthy family. But all of it belongs to his father He has nothing of his own in Mumbai, not even a home.
He needs time to settle down. In the meanwhile people are spreading dirty rumours about me. Ek insaan kitna bardaasht kare?"
Rakhi is disgusted by singer Mika's attempts to make mileage out of her name. "I'm really tired of people using my name. I don't want to give such people more importance. I've learnt the hard way how to be dignified. Jesus has taught me to be calm. My good days are just beginning. Let me remind these publicity seekers that short cuts don't get you anywhere."
Rakhi says she's going through a lot of turmoil. "They are writing all kinds of things making up all kinds of quotes about Elesh on my behalf. They're all taking advantage of me. I'm being used for publicity by so many people. Why are people doing these things with me? Jesus knows how much I'm suffering."
Speaking on her former boyfriend Abhishek Awasthi Rakhi says, "I still consider him my good friend. I hope and pray he finds a good girl to marry. If ever in life he needs me I'll always be there. If needs me to be a dance partner in a reality show I'll gladly do the needful. He has supported me a lot. I'll always be thankful to him for getting my mother out of my life. That's one good deed he did. If Abhishek hadn't been there I'd have not had the courage to break away from my family. I'd have been wallowing in mud. Aaj Rakhi Swant nahin hoti. I'd have been something else. I can't even say what I'd have been."
Rakhi thinks her good days have started. "I know Elesh is a decent guy. But is that enough? He has be financially independent. He needed a place and a face to latch on to, that's why he came on the show. Abhishek Awasthi was so decent. But he was know as Rakhi's boyfriend."