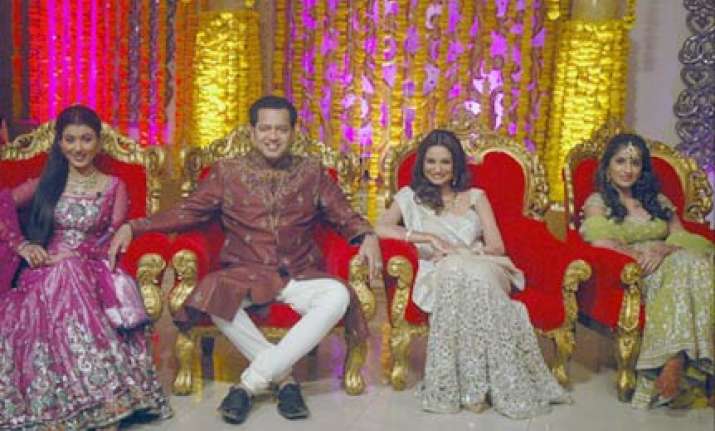 Rahul Mahajan has almost decided to carry on with his career in showbiz.
"Politics is in my blood but entertainment is my livelihood. You don't get paid that much as an MP. Showbiz is a huge business and I am looking forward to explore it. Be it TV or films. Moreover it has mass appeal and gives me an opportunity to get connected with people," Rahul told PTI.
 It is good times for Rahul now as he insists that he is ready to settle in life and embark on his new found career. He is soon going to be a married man as he plans to tie the knot with one of the three finalists from the show 'Rahul Dulhaniya le Jayega!' on March 6 on NDTV Imagine.
"Its a great feeling. I am both excited and nervous. I really believe marriages are made in heaven and this time I'll give whatever I have to make my wife happy. It is going to be happily ever after," he said.
Rahul, who recently confessed about his "hardships" amid the media glare after his father's death, his involvement in drug case and his divorce on the show, thinks that this time marriage will bring love and stability which he always wanted.
 "All the bad times are a thing of the past and I am not going to let my past affect my present. I am ready to settle down in life and finally be happy. I have gone through a lot and now it is my time," Rahul added.
On Saturday, Rahul will be choosing his life partner from the top three finalists are Nikunj Malik, Dimpy Ganguly and Harpreet Chabra but he says it is a tough decision to make. "I am the one who'll be at the loss," he said.
And though the three finalists are equally jittery, they have found different ways to handle the tension. "I have never tried so hard to impress a guy. I am anticipating a yes because frankly speaking I don't think I have a competition. I am just concentrating on my makeup and costumes to look the best on the wedding," said Nikunj, 25-year-old fashion designer from Delhi.
While, 21-year-old and anchor Harpreet Chabra is leaving her case on the destiny. "I am confident of myself but then I don't know what destiny has planned for me. I would love to be Mrs Rahul Mahajan because he is such an amazing person, so sensitive and caring," said Harpreet.Dimpy Ganguly, 21, a dancer from Kolkata is confident to win as she believes she shares a much more crackling chemistry with Rahul than the other contestants. "We both share a better chemistry and Rahul knows that I am the most genuine out here. Moreover since I am already a known face in Kolkata I believe I can manage media attention much better after becoming his wife," said Dimpy.
Meanwhile, Rahul has decided to carry on with his wedding despite his uncle Pravin Mahajan's death.
Uncle Pravin Mahajan was cremated while Rahul's mehendi ceremony was in progress. Rahul's marriage will take place during the Chautha of his uncle. Rahul has not changed his marriage plans as he is unaffected with the demise of Pravin, who was in coma for a long time. Moreover, Rahul said that all things will take place as per schedule.
The final episode of NDTV Imagine's reality show, 'Rahul Dulhaniya Le Jayega' will be telecast on Saturday.
 Rahul is really thrilled about his marriage ceremony and has been distributing his marriage cards. He has chosen 'Maldives' as his honeymoon spot.
After the marriage ceremony, he will shortly leave for Maldives with his perfect bride.
Rahul's close friend said, "Rahul didn't seem disturbed by the news at all. In fact, even after getting the news, he was busy inquiring about the sangeet and wedding plans. The wedding preparations are going on and let's see who will become Rahul's Dulhaniya Harpreet, Dimpy or Nikunj.