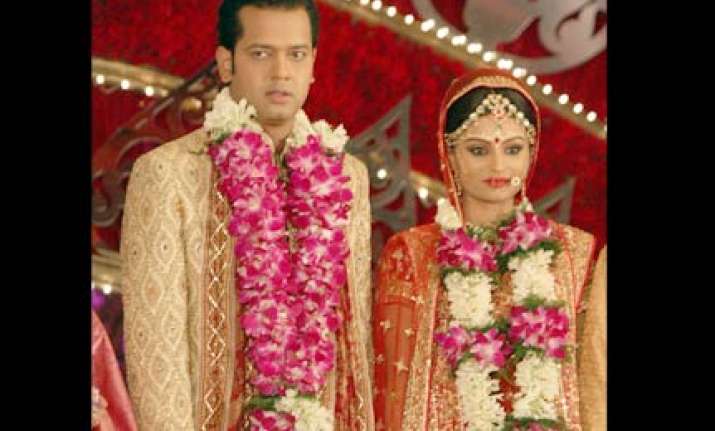 A Delhi Court decided to hear the prosecution on Tuesday on the plea of Rahul Mahajan, who got married in a TV reality show on Saturday, for release of his passport to visit the Maldives for honeymoon.
Rahul, son of slain BJP leader Pramod Mahajan, is facing trial in a drug abuse case and his passport remains deposited with the court.
The newly wed Mahajan couple, Rahul and Dimpy Ganguly, were present before Additional Sessions Judge J P S Malik, who posted the matter for Tuesday after Delhi Police counsel sought time on the ground that he has to seek reply of the investigating officer in the matter.
Additional Public Prosecutor Ahmed Khan submitted that he had not been given prior notice on the application of 34-year-old Rahul for release of his passport to visit the Maldives between March 9 and March 30.
 Khan said this is not the first time that he was going abroad for honeymoon, a submission which was strongly objected to by Rahul's counsel Ramesh Gupta.
Gupta, a senior counsel, also opposed the prosecutor saying that notice on Rahul's plea was given after filing of the application on February 16 for his visit aboard with his "would be wife."
Rahul got married to 21-year-old Dimpy Ganguly, a model and dancer, during the TV reality show 'Rahul Dulhaniya Le Jayega'. He was accompanied by his wife who was draped in a green saree. The couple declined to talk to the reporters.
Rahul, who was asked to deposit his passport with the court following grant of bail on June 14, 2006, married one of the three final contestants of the TV show on March six.
The trial in the drug abuse case is stalled as the records are with the Delhi High court which is hearing various revision petitions against framing of charges under the Narcotics Drugs and Psychotropic Substances (NDPS) Act.
The High Court is hearing a bunch of petitions filed by Rahul, Sahil Zaroo and Harish Sharma, personal assistant of Pramod Mahajan, challenging framing of charges against them.
Mahajan has been accused of consuming and distributing drugs at the official residence of his slain father on the night of June 2, 2006.
The Delhi Police, however, wants to press additional charges against them pertaining to commercial quantity of the contraband, which envisages higher punishment.
Rahul, along with his late father's secretary Vivek Moitra, was admitted to Apollo Hospital here in the wee hours of June 2, 2006, after they allegedly consumed contraband drugs. Moitra later died in the hospital.
Rahul, who was accused of consuming the contraband, was absolved of the charge of drug trafficking which carries harsher punishment.
Earlier, the court had framed charges against Rahul, Sharma, Zaroo, Nigerian nationals Abdul Latif Ashola alias Mohd Abdullah and Egbedokun James Taiwo and others under various provisions of IPC and NDPS Act for their roles in the case. PTI