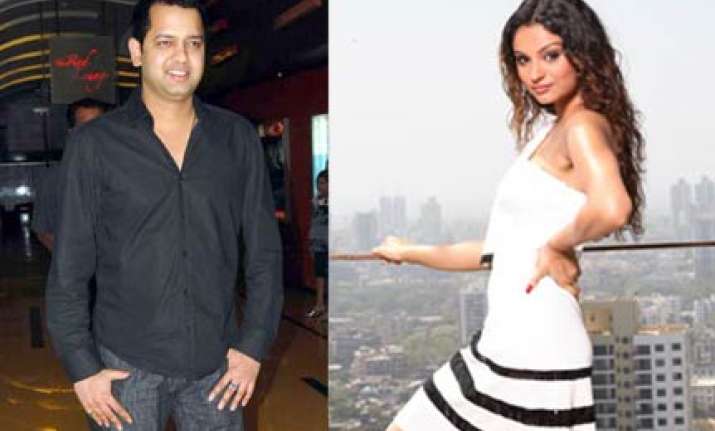 Post a muscle pull, Dimpy got  a massage from Rahul Mahajan, reports The Times of India. The report says, Rahul is too proud of his wife's popularity and doesn't rule out featuring with her again on television. The newly-married couple reaches Kolkata on April 1 for a grand reception, says the report.  
The telly bonding of Rahul Mahajan and Dimpy Ganguly-Mahajan, the report says, is growing from strength to strength. The duo, back from their honeymoon in Maldives, is setting foot in Kolkata. They will  attend the reception hosted by the bride's family. For starters, Rahul says he enjoyed every minute, far from the madding crowd.
 "We were secluded from the rest of the world. That helped us understand each other better. There were no cameras, nobody speculating our relationship, 24x7," he explains. The best part, he says, was when Dimpy, a non-vegetarian would have a simple meal of dal-chawal with him and Rahul, in turn, would go fishing with his bride. 
"That was some experience. Locals in Maldives would ask for Dimpy's autographs first. She even got 6,700 friend requests on a social networking site. Tell me, which man wouldn't be proud of his wife's popularity?" Dimpy, on her part, admits that she has never been abroad and that the experience was breathtaking. "Everything was so beautiful. I kept wondering whether this is for real! Fourteen days passed in a jiffy. We were so engrossed in each other," she smiles. 
Asked whether Rahul gave her the much-promised massage? "I did a full course in scuba-diving. In fact, I'm a certified scuba-diver now. When I sprained my back, Rahul did give me a massage," she giggles, adding that it was a great feeling, not just walking together, but even swimming together, underwater. 
Even though the couple arrives on April 1, Rahul will be flying back on April 4. Kolkata's newest jamai says his relationship with the city goes back a long way. "Earlier, I had shot in the city for a programme, in places like Tollygunge Club and Lahabari. A frequent flier, Kolkata is also my fave stopover." A concerned husband, he talks about the need for Dimpy to spend time with her family. "She has just not been able to do that. It's obvious for her family to have some expectations." On April 2, the couple will be visiting Dakshineswar Kali temple in the morning before gearing up for the reception at a city hotel in the evening.
 "We couldn't invite all our friends and family to the wedding since it was happening at a restricted area. My mom will be flying in with me," Rahul adds.
 For the reception, the bride plans to wear a Sabyasachi or a Neeta Lulla sari, even though Rahul is yet to make up his mind. The menu will have both Bengali and Chinese fare since Dimpy says, "I like both. There's going to be paturi and chingri for sure." 
And what about career decisions now that the celebrations are going to be over soon? "Both of us are getting a couple of offers. We aren't ruling out the option of working together," Rahul says.