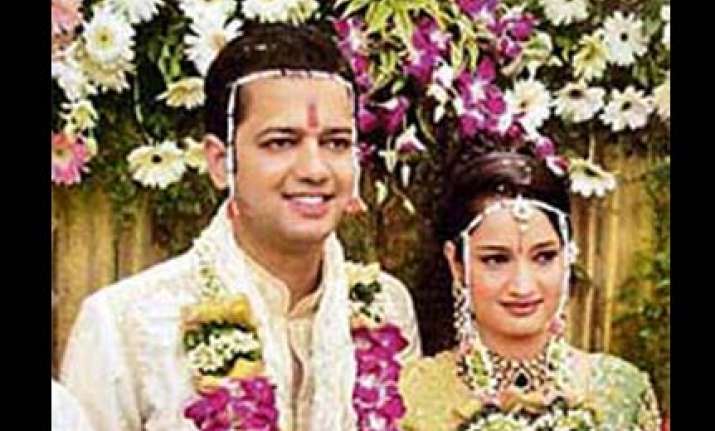 Rahul Mahajan's former wife Shweta has revealed that  Rahul had got in touch with her and even offered to remarry her on the reality show to garner TRPs, says a Times report from Hyderabad.
The report quoting sources says, Rahul Mahajan  recently was in touch with Shweta.  After much cajoling,  Shweta revealed, "Yes, he had called me before the show and asked me to appear on his Swayamvar."
Is it true then, that he even offered to remarry her on the show? "He did, but I obviously refused! Firstly, I feel these reality shows are scripted and fake. Marriages are made in heaven and not on reality shows! Secondly, if I wanted to be a part of his life, why would I have gone in for a divorce?"
The report quoted sources to say that Rahul Mahajan offered an awesome amount to her to make an appearance on his show. Shweta on being asked, merely said:  "You know quite a lot, so why are you asking me?"
Asked whether Rahul was still drooling over her after their divorce, she said, "I don't even want to comment on him or his life!"
But, what about her? Does she still have a soft corner for him?
Without much ado, she replies, "I knew him as a friend years ago, then we were out of touch for ten years and then I married him. But, I realised that he had changed in those ten years."
So, she will not even consider making an appearance on this telly wedding? In her inimitable forthright manner, she replies, "Gimme a break! No ways!"
And what's the latest on her personal front? "My flying career is going great guns, but on the personal front there's nothing much to talk about," says she.
When she's in a retrospective mood, ask her what's her take on these telly marriages and she says rather philosophically, "I won't comment on anyone in specific. But, I would like to quote relationship counsellor Barbara De Angelis here: "The real act of marriage takes place in the heart not in the reality shows. It's a choice you make daily by the way you treat your husband or wife. '"