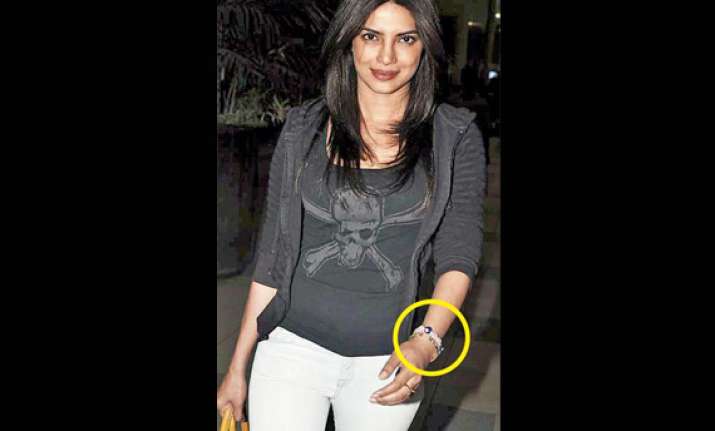 Bollywood star Priyanka Chopra has been seen wearing a Turkish evil eye bracelet to ward off evils.

She was spotted with the bracelet on her arrival from Aurangabad, where she was shooting with Shahid Kapur for her next film.

Priyanka is not in the pink of her health. recently, at the Mumbai Police annual celebration, Umang, she was supposed to perform on stage, but she had a bout of dizziness and almost collapsed.

Priyanka had to skip the act and was rushed home immediately.

 "It happened all of a sudden. Piggy Chops felt extremely weak. Her blood pressure dropped drastically", a close friend of hers told Mumbai Mirror.

Sensing that something was wrong,when she failed to step out of her vanity van,the organisers of the Police Mela (Moranis) rushed to Priyankas side.

"Accompanied by some senior cops,the Moranis went into her van and told her to take it easy.They advised her not to perform and quite categorically told her to go home,"added the friend.

This is not the first time Priyanka,possibly one of the busiest stars in the industry,has had medical issues.

In April 2009,  she fainted on the sets of Ashutosh Gowariker's What's Your Rashee.

At the time,her mother had rushed to the sets of the film along with a doctor.

"My immune system has just gone a bit haywire,"Priyanka said then.

Though Gowariker had wanted to pack-up after the incident,Priyanka insisted on completing her shots.

The next day,despite her ill health,Priyanka had performed at the Miss India pageant and returned to shoot for Ashutosh's film soon after.

The ill health however,had not stopped nagging her.

A couple of days later,Priyanka complained of stomach ache and had no strength to shoot.

She was taken to the hospital for a check up and was later admitted.Her father,Dr Ashok Chopra,had said then,"Her reports are all normal but she has been advised to slow down her work." Work however,did not slow down.

In August 2009,Priyanka fainted again.This time at a promotional event for Kaminey held in an Andheri multiplex.

Attributing her latest health issues to a bout of fever and long hours of work,Priyanka's friend told Mirror,"She has just come back from Aurangabad after completing her shoot for Kunal Kohli's Teri Meri Kahaani.She wasn't keeping too well in Aurangabad either.She had fever as well.

"And then on Saturday, she spent the entire day dubbing for Karan Malhotra's Agneepath.And then she went for Umang.All this added up and took a toll on her health."

"She is better now but has been advised rest by doctors.Hopefully,she should be up and about soon,"said the friend.