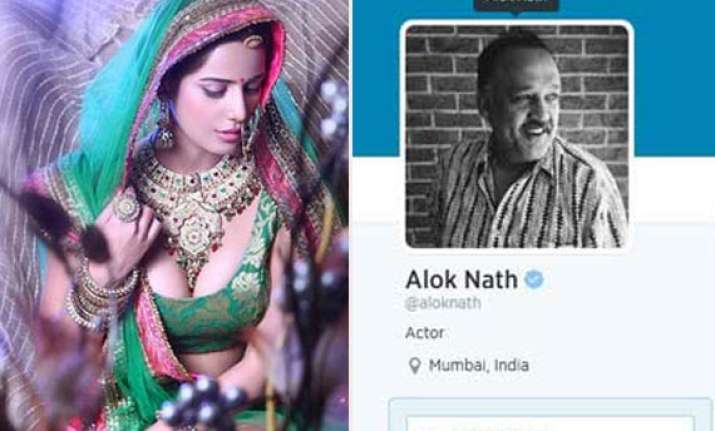 New Delhi: What strikes your wits on the name of Poonam Pandey? A seductress clad in minimal attires posing around seductively and flaunting her curves and assets liberally and blatantly. Now what if you learn that she has transformed into a simple Indian bahu? Shocked!
Indeed, the Nasha actress has donned this avatar for welcoming the new entrant Alok Nath on the social media platform Twitter.   
"GR8 to see Sri @aloknath on Twitter. ... Sir This is a Welcoming Pic for You #AloknathEffect", wrote Poonam as she posted this snap. 
Clad in a traditional Sari, the actress however, tried to be as sober 'beti' or 'bahu' as she can like Alok Nath's most number of flicks, but looks like she has missed out on something.  
The actress couldn't resist covering her extra visible cleavage in that dress. Well, we can't complain about that to Miss Poonam as it takes time to shed old habits. 
What is more amusing is that the actress is looking out to learn some 'sanskars' from Alok Ji via twitter. 
"First Day on Twitter of Sri @aloknath Made mw Change my DP .... Lot more Sankars to Learn from Him #AloknathEffect", tweeted Pandey.  
Well, if this is the effect of Nath's presence on the social media platform right now then what would transpire to others in the coming days? We can't wait to see!