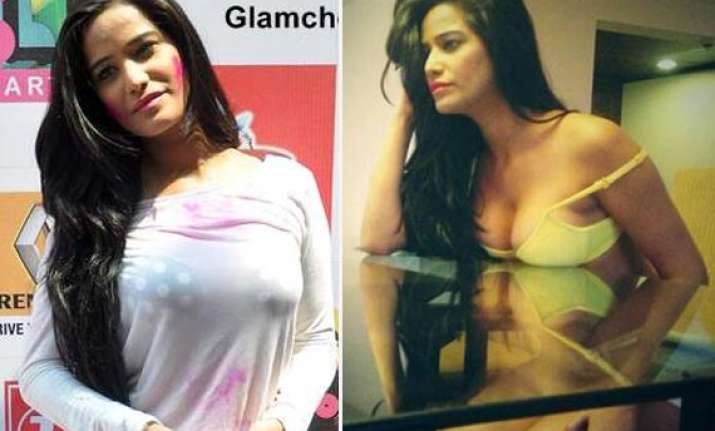 New Delhi: Poonam Pandey never lacks ideas to remain in limelight as time and again she pops up with her usual yet unique and sleazy stint to which none of her fans could resist avoiding.
Suddenly, the Nasha actress has once again started trending on the microboggling website with #WhyIWantBRAofPoonamPandey.
The sexy siren declared via Twitter that she is going to offer her bra to one lucky winner if her favourite Football team Brazil wins the match, however, not sure whether it was the semi-final match which the team last played or about the Final which will be played soon.
The actress also shared her sleazy images donning bra which she is going to gift that winner
But as expected, since her fans are always seeking an opportunity to hash tag this sex bomb, the social media was and is still continuing to bombard with reasons as to why they need Poonam's inner wardrobe which hides her formidable twins.
Here are few tweets by her fans who gave one after the other amusing reasons to woo the lady.
@iPoonampandey #WhyIWantBRAofPoonamPandey I would donate it to the "world sex museum"!
#WhyIWantBRAOfPoonamPandey can be 8th Wonder of the World! @iPoonampandey
#WhyIWantBRAofPoonamPandey coz I haven't seen bombs..
#WhyIWantBRAofPoonamPandey because it's the reason for global warming! Love u poonam!
@iPoonampandey #WhyIWantBRAofPoonamPandey as they are Weapons of Mass Destruction! #Goddess
@iPoonampandey #WhyIWantBRAofPoonamPandey coz it's been honoured wid best job in the world
#WhyIWantBRAofPoonamPandey Coz I can do Abra ka Dabra with it @iPoonampandey
No matter what but the actress reveals how she is addicted towards sports. Whether it's Cricket or Football now, Poonam loves getting associated with it and also tempts her followers to follow the game with sleazy offers. Let us see what she comes next with.