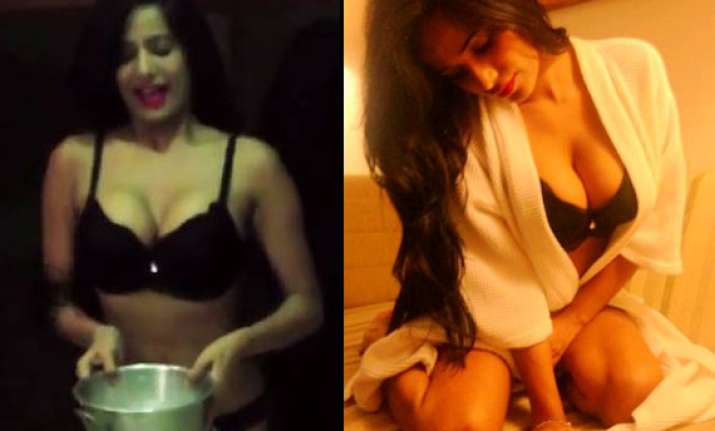 New Delhi: #ALSicebucketchallenge has hit most houses all over and people are accepting it with full enthusiasm. While Bollywood stars namely Riteish Deshmukh, Akshay Kumar, Bipasha Basu, Sonakshi Sinha, Sidharth Malhotra, Sunny Leone among others recently performed the task, it was now turn of the sultry siren Poonam Pandey to take up the challenge and the actress took it quite seriously using only a bucket of ice.
The 'Nasha' actress was nominated by Red FM RJs Panky & Ashish and since we all know that Poonam always look out for opportunity to flaunt what she is best known for, the ice bucket challenge was indeed a special platform for her.
"I Accept the Challenge frm My RJ frens frm @RedFMIndia  RJ @Panky26 & RJ Ashish & All u Lovely Tweethearts", wrote Poonam
Ever since she declared on twitter to take up the challenge, she started trending with #PoonamPandeysIceBucketChallenge and the excitement among her fans was at par.
Some wished to be an ice for the reasons we all know while few started recommending her the best place to perform and the best wardrobe to wear while performing it.
"Confused!  RT If you want ke to Shoot #PoonamPandeysIceBucketChallenge in Bath Tub  & FAVOURITE if u want it in Bed", tweeted Poonam.
"Thinking Shud i do it in Bathroom or on a Bed.. Shud i Wear a Bikini or a Bathrobe", she added further.
And finally wearing a hot bikini, the actress performed a task standing on a bath tub. Below is the video, which has got over 85000 views by now. But a big thing she declared before taking up the task was to nominate three Khans of Bollywood- Salman, Shah Rukh and Aamir in this challenge. Now it has to be seen if these superstar Khans take up the challenge.

Read out some tweets shared yesterday-

Indian cricketers should have ideally gone through Ice Chullu Bhar Challenge after the England test series.#PoonamPandeysIceBucketChallenge
the only tym when ice cubes r getting more popularity than drinks... #PoonamPandeysIceBucketChallenge  .....
@iPoonampandey There are already 8 people in ICU due to long wait. This is serious tip.
@iPoonampandey  A heart felt thanks to the one who nominated yu to take up the challenge..!! _/_  #waiting #PoonamPandeysIceBucketChallenge
@iPoonampandey #PoonamPandeysIceBucketChallenge wasn't able to watch da video as my screen got blurred due to da hotness of da content.