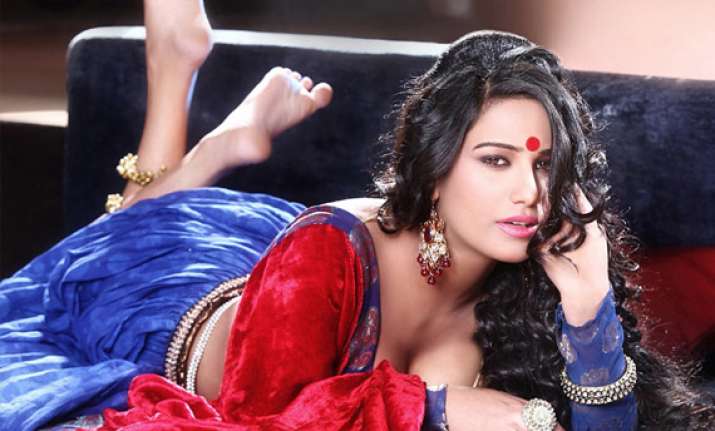 New Delhi: The sultry siren Poonam Pandey is enjoying every bit of her publicity, it doesn't matters it comes out of jokes made on her. The social media is abuzz again with the Nasha actress as #iHaveAjokeOnPoonamPandey is the new trend setting the micro boggling site on fire.
Her fans have bombarded Twitter world with innumerable jokes on her and guess what, the hottie loves them enormously.
"I Wonder..How can you think these Many Jokes on #iHaveAjokeOnPoonamPandey  Am just going Crazzyyyy by Reading all of them..;)", tweeted Poonam Pandey.
The fans on the social platform are becoming quiet blatant is mocking any of their favourite actors and what's amusing that these stars aren't feeling insulted about it and instead are taking pleasure out of it.
Just a couple days before Pandey started trending with #WhyIWantBRAofPoonamPandey as she declared to offer her bra to one lucky winner if her favourite Football team Brazil wins the match.
And as expected her followers in big numbers didn't left any opportunity to give their bold and hilarious reasons on social platform.
Read out all the tweets on #iHaveAjokeOnPoonamPandey going viral on Twitter.
@iPoonampandey  #iHaveAjokeOnPoonamPandey fOOT ball fever doubled in India as pOOnam started supporting BRAzil
#iHaveAjokeOnPoonamPandey.. God made man and then rested. God made @iPoonampandey  and then no one rested.
#iHaveAjokeOnPoonamPandey don't know where to see while talking
with @iPoonampandey
Only Aloknathji can stare at @iPoonampandey 's eyes.
#iHaveAjokeOnPoonamPandey  during fifa world cup don't know where to concentrate- ball or match!!!!!!
#iHaveAjokeOnPoonamPandey Why her lips look red all the times, Because She keeps asking Paan- De.
#iHaveAjokeOnPoonamPandey but i dont like nonveg on tuesday...@iPoonampandey
#iHaveAjokeOnPoonamPandey Aloknath wants do kanyadan for @iPoonampandey
Once Ranjnikant said "hi sexy..!!" to a girl.. That girl today is known as Poonam Pandey.