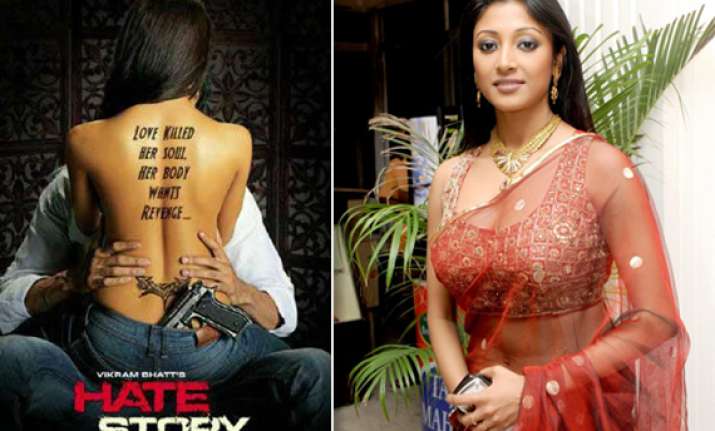 Mumbai, Mar 21: Hate Story director Vivek Agnihotri has fulsome praise for Bengali actor Paoli Dam saying she has no inhibitions like other Bollywood actresses.
Agnihotri says Hate Story will be Indian cinema's first erotic film.
The revealing poster of Hate Story has already created quite a lot of buzz.
"It's the first of its kind because it deals with sex, but in a more sensuous manner," says Vivek.
Recently reports claimed that the film was supposed to be directed by producer Vikram Bhatt, but because the subject was too bold for him, Vivek was roped in. "I think he figured that a person needs guts to direct this one," says Vivek.
Like many international productions, this one too has some frontal nudity.
Bollywood stars, according to the director, come with too much baggage, which is why he preferred roping in Paoli Dam for the role.
"Stars come with a lot of inhibitions and I wanted the film to be a 100 per cent hardcore thriller; like the films that are made in Hollywood, France and other liberal societies, for that matter," says Vivek, adding, "I asked Paoli if she would pose nude in front of a camera, and she agreed instantly."
The face of the man being hidden in the poster was rumoured to have been actor Nikhil Dwivedi's, as he plays the lead role in the film, but Vivek puts those speculations to rest by saying,
"Nikhil is not involved in the sex scenes of the film. The main conflict is between Gulshan (Devaiya) and Paoli."
Admitting that filming the sex scenes was quite a tough task, Vivek says, "Shooting two naked people was the most difficult thing about this film. When we started, everyone on the set was a bit awkward. But then I just went ahead and shot the scenes like any shot."