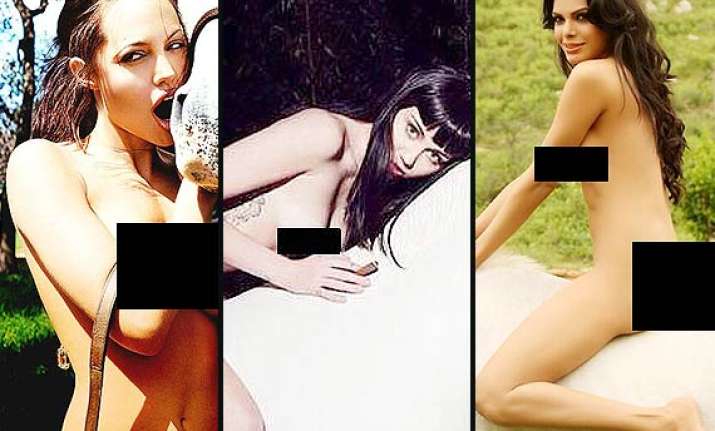 Beauties all over the world, takes different roads to expose their charm and get a world-wide publicity. Struggling to create own niche in the world of glamour and amid a lot of hustle-bustle, models and actresses do not even shy going out-of-the-box or doing something completely outrageous.
Not only our very own sassy babes, Sherlyn Chopra or Poonam Pandey have chosen secluded paths to stardom, many Hollywood divas too try and get success and popularity as their earliest. Going gaga over being naked and then posting pictures on various social networking sites is the latest trend and this wave has caught all.
Posing nude in photo shoots, for some ad or in a self made publicity stunt, stars have surely pointed it right to the people's wit with such daring deeds.
One such daring stint that these publicity-stricken stars have been doing time and again is posing nude on a white horse. While the white colour has been the hue of purity and sanctity, it is also closely associated with anxiety and erotica.
As they pose with or on white horses, these sensuous models get a perfect base to highlight their toned figure and defined body contours.
Horses, for long been are taken as a synonym for strength and power and by posing with white horses, these divas show the strength of flawless beauty.
From Angelina Jolie, Kate Moss, Gisele Bundchen  to Sherlyn Chopra and the recent to add is Miley Cyrus; none of them escaped flaunting their nude frame and in fact have exposed it more while posing on the white horse.
Here follows a few pictures. Take a look to see how beautiful these ladies seem when they pose so erotically with white horses!