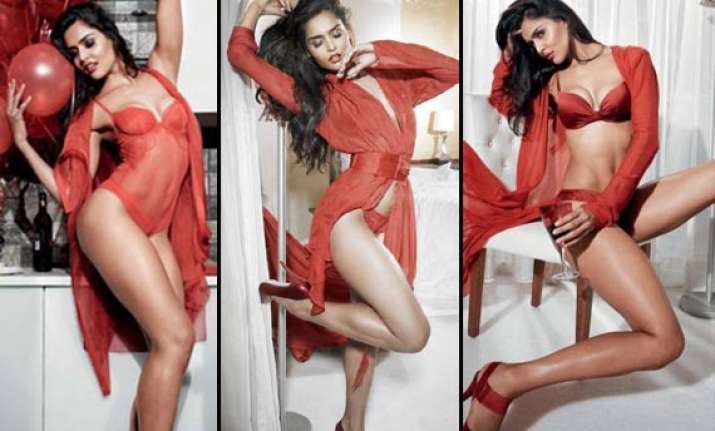 New Delhi: The Brazilian born hot model-actress Nathalia Kaur has joined the league of actresses who have graced men's magazine 'Maxim' with their sizzling photoshoot. Truly, she is an epitome of sensuousness and can give any Bollywood hottie a run for the money.
Flaunting her curves in red lingerie, Nathalia could be seen enjoying every bit of the photoshoot without any mark of hesitation.
On couch, chair, beside a wall, Nathalia is displaying every corner of her sumptuous and well-toned body, which would make any man go weak on his knees.
Enjoy a visual treat in this photoshoot.
The Rio de Janeiro-born model earlier won Kingfisher Calendar Hunt Model in 2012 and later in the same year appeared in the swimsuit calendar.
From Nathalia Pinheiro Felipe Martins, the actress rechristened herself as Nathalia Kaur to enter into Bollywood so that Indian audience may get more familiar with her.
Her hot item number 'Dan Dan' in the Ram Gopal Verma's 'Department' was her initial claim to fame.
Later on she made her acting debut with Kannada flick 'Dev Son of Mudde Gowda' and showed off her acting prowess.
Many of you won't be aware of the fact that this hot actress has also been an opera singer. 
Nathalia Kaur will next be seen in Bollywood flicks namely 'Rocky Handsome' and 'Guns of Benaras'