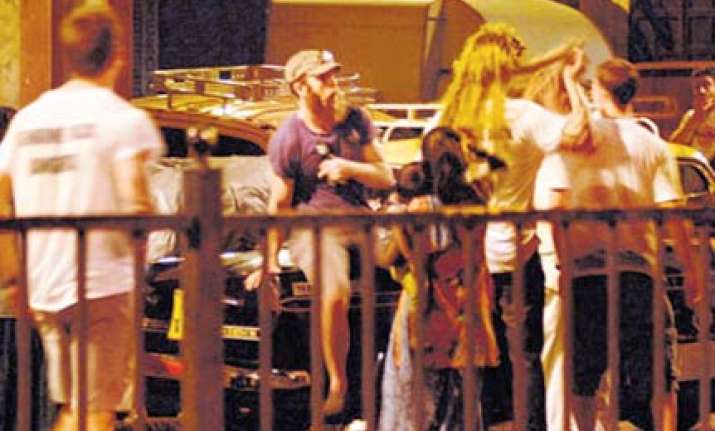 Seven foreign nationals climbed on to taxis, bullied cabbies and even urinated in the middle of the road after midnight on Tuesday outside the famous Leopold Café in Mumbai, but the policemen in khaki watched them passively and allowed them to move away, reports Mid Day.
The group of foreign nationals created a ruckus outside Leopold Cafe on Colaba Causeway at around 1 am. Seven drunken foreigners stepped out of the cafe with beer bottles and started screaming.
The hooliganism didn't stop there. They climbed on to cabs parked on the causeway, abused cabbies, blocked vehicles and urinated in the middle of the road. The foreigners even forced taxi drivers out of their vehicles, as they wanted to drive.
In the meantime, a police van passed by. It only stopped for a minute due to the commotion, but seeing the 'firangs' it drove away turning a deaf ear to the chaotic proceedings.
The seven foreigners, inebriated to their gills, continued to play mischief for about half an hour, after which cops from the Colaba police station arrived.
 
Seeing the men in khakhi, the miscreants fled in a taxi, but the police did not even make an effort to chase them.
When asked why didn't the police stop or detain them, police sub-inspector Parab on duty, said, "We can't do any thing as no one complained about it."
This was a classic answer for non-performing.
Meanwhile, a Leopold's  staffer said, "These people got drunk and created a scene. We'll make sure they are not allowed here anymore."