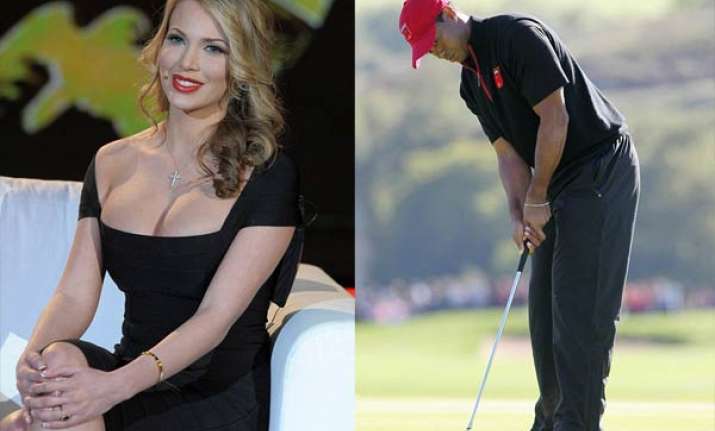 The first of Tiger Woods' mistresses to write a tell-all book has blamed his wife for his serial cheating, reports Daily Mail.
High class escort  Loredana Jolie accuses Elin Nordegren of being an uncaring 'gold-digger' in her book which details her alleged 20 sexual encounters with the shamed golf star.
 
Jolie, who charged up to $15,000 a night for sex, alleges the sports star only remained married to protect his multi million pound fortune.
She claims: 'Obviously they didn't have such a close relationship because if I was in his house where the hell was she?''If I had my husband, I would make sure I knew who was coming to my house. At that point I started realising it was more or less a financial reason they were married - she was in it for the money.'
Jolie's comments and her planned publicity push for the book will mean further embarrassment for the golf star.The book's publication next month is timed to coincide with the first anniversary of the car crash outside his Florida home that unleashed the sex scandal that cost Woods his marriage.
He was divorced by his 30-year-old wife two months ago by a Florida court.Swedish born Nordegren received an estimated $100m settlement and custody of their two young children Sam and Charlie.
Woods had admitted to a string of affairs with as many as 14 women coming forward to claim they had slept with him.

The sex scandal came to light after a car crash outside his home in Isleworth, Florida, the day after U.S. magazine, The National Enquirer,  linked him to New York party hostess Rachel Uchitel.
Among those who came forward to say they were his mistress were two adult film stars, a cocktail waitress and even a waitress from his local pancake restaurant.
Jolie, a 27-year-old former Playboy model, claimed she first met Woods in 2006 when he hired her for £10,000 during a visit to New York.
In her book "'e Real Diary: Lessons from the Good Time Girl to Champion' she portrays Woods as a sex addict who was used to getting his own way.She claims in the book that he only paid her once for sex out of 20 encounters and that she fell in love with him during their two years together.
Jolie claims Woods liked to indulge in threesomes and fantasised about watching her have sex with another man.'I would make his fantasise.I would ask him what if I had another guy here with me while he was there and with me.It kind of turned him on a little.He didn't say he would try it.It would just turn him on.'
The book is due to be published next month, shortly before the first anniversary of Wood's private life unravelling. Jolie praises Woods for his sexual prowess in the book but manages to mix up the phrases seventh heaven and cloud 9.
She writes: ' When I was having my relationship with Tiger I was like on the seventh cloud, especially from the sexual perspective.''There is at least no doubt about the fact that Tiger was awesome in bed.'
Jolie claims Woods, who has struggled to capture his best form since the sex scandal broke,was addicted to sleeping pills.'Tiger was kind of addicted to pills. I saw him taking sleeping pills and painkillers.''He had a severe sleeping disorder and he could not sleep at night.'