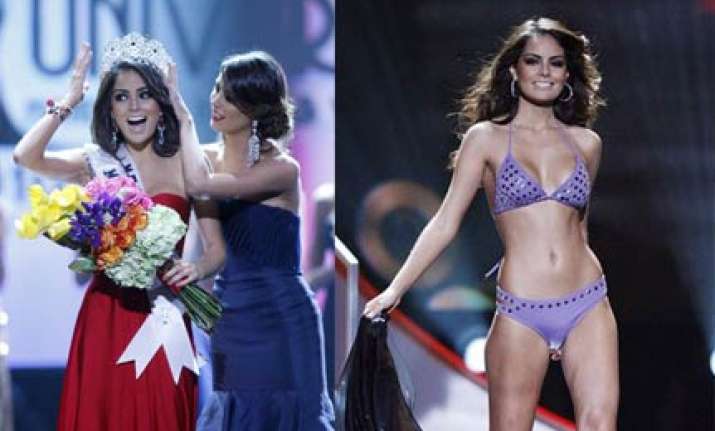 LAS VEGAS (AP) — A 22-year-old Mexico woman won the Miss Universe pageant Monday night after donning a flowing red gown and telling an audience it's important to teach kids family values.
Jimena Navarrete of Guadalajara was first to answer an interview question Monday night and the last of 83 contestants standing in the headline-grabbing pageant on the Las Vegas Strip.
Her one-strap gown flowed behind her like a sheet as she walked. Earlier, she smiled in a violet bikini as she confidently strutted across the stage.
Asked by Olympic gold-medal figure skater Evan Lysacek how she felt about unsupervised Internet use, Navarrete said the Internet is important but parents need to be careful and watch over their kids.
"I do believe that Internet is an indispensable, necessary tool for the present time," she said through an interpreter. "We must be sure to teach them the values that we learned as a family."
First runner-up was Miss Jamaica Yendi Phillipps, while second runner-up was Miss Australia Jesinta Campbell.
Navarrete — who's been modeling since she was 15 — is Mexico's second Miss Universe. Lupita Jones of Mexico won the title in 1991. Navarrete replaces Miss Universe 2009 Stefania Fernandez of Venezuela.
Navarrete's win thwarted Miss Venezuela Marelisa Gibson from giving the South American country a third consecutive win. Neither Gibson nor Miss USA Rima Fakih made the top 15 finalists.
With fans in some 190 countries watching on television and keeping tabs on Twitter, Navarrete and her competitors introduced themselves while wearing over-the-top national costumes. They then danced in silver and black dresses for the show's opening number before the top 15 finalists were announced.
The final 15 walked in swimsuits while Cirque du Soleil musicians played Elvis Presley songs including "Viva Las Vegas." The last 10 impressed in their gowns while John Legend and the Roots played a soulful medley including "Save Room."
By the end of the show, seven of the top 10 trending topics on Twitter had to do with the pageant, its contestants, its judges or owner Donald Trump. The mogul co-owns the pageant with TV network NBC.
Navarrete won a package of prizes including an undisclosed salary, a luxury New York apartment with living expenses, a one-year scholarship to the New York Film Academy with housing after her reign, plus jewelry, clothes and shoes fit for a beauty champion.
Campbell won the Miss Congeniality Universe award. Miss Thailand Fonthip Watcharatrakul won Miss Photogenic Universe and a second award for having the best national costume.
The Miss Universe 2010 pageant began at the Mandalay Bay Resort & Casino in Las Vegas on early Tuesday morning.
The top 5 were:
Mexico
Australia
Jamaica
Ukraine
Phillipines 
More than 80 beauties have showed off swimsuits, evening gowns and quick-thinking interview skills in hopes of impressing a panel of celebrity judges and winning the coveted 2010 Miss Universe crown.
From Albania to Zambia, contestants from six continents are participating in the pageant being held at the Mandalay Bay Resort and Casino in Las Vegas.
The winner will replace Miss Universe 2009 Stefania Fernandez, who gave Venezuela a second consecutive win by taking the title at the age of 18 last year. The South American country has won six titles since the pageant started in 1952.
The beauty pageant, as expected will run through its usual format of competition. The first part is the selection of Top 15 semi-finalists. The chosen 15 semi-finalists will be judged accordingly in swimsuit, evening gown and first round of interview portion. The 15 will be trimmed down to Top 10 and whoever gets the highest tallied score will advance on the Top 5 finalists. Special Awards like Miss Photogenic and Miss Congeniality will be given all throughout the competition.
The hosts for the pageant are rocker Bret Michaels and NBC correspondent Natalie Morales. The biggest beauty pageant gets seen across 190 countries and territories every year. The contest, co-owned by Donald Trump and NBC, will be judged by celebrities including 2010 Olympic gold medalist Evan Lysacek and actress Jane Seymour.