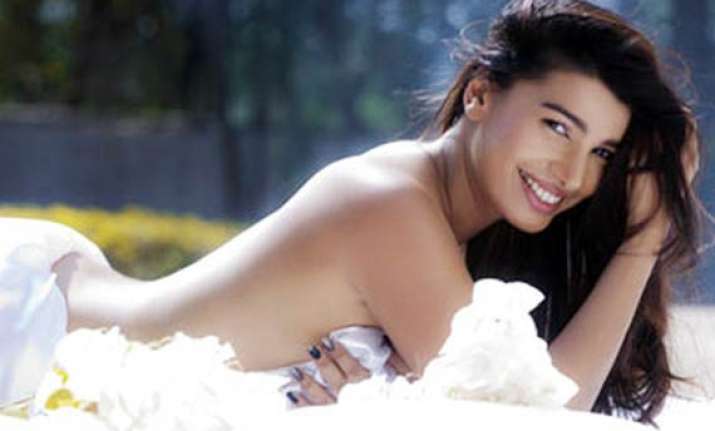 Bollywood starlet and model Mink Brar has admitted that she kissed a fellow female model in the swimming pool in an inebriated condition, but she adds: "Kissing a girl does not make me a lesbian".

In an interview to Soumyadipta Banerjee of DNA newspaper, Mink Brar said: "I was so drunk in the party that I could have smooched anybody in front of me. It could have been a boy or a girl, it didn't matter. I was not in my senses and I just kissed the girl in front of me in the pool. It was like a moment that just came and I acted on it."

Asked about her sexual preference, Mink said: "A lot of girls kiss other girls in Truth or Dare games when they are high, I didn't find anything wrong with what I have done. I just shared a passionate moment with her and didn't find anything wrong with that. Next day, I started getting a call from somebody asking me repeatedly if I was a lesbian. I was having a hangover and I didn't know what to say. So I said, 'Yes, I am a lesbian. What will you do to me?'

"I am not a lesbian and was in an intense relationship with a man even a couple of years back. Everybody in Mumbai knows about my former boyfriend," said Mink.




Mink admits that her family hasn't been able to sleep ever since the MMS clip went viral on the web.

"My mom is continuously calling from Germany. I don't know how to face them. I made a mistake of going to the party last week. That MMS clip changed my life forever. I want to know who did this to me…" she said.

The MMS clip that has been uploaded on a leading X-rated site shows starlet and model Mink Brar passionately lip-locking with a fellow female model in the swimming pool.

The three-minute video clip recorded on a mobile phone also shows the model responding to Mink's kisses; they start fondling each other in the pool in full view of the 50-odd guests standing around the pool.

The guy recording the clip was standing on their left side and recording it from a close distance.

The video clip, which has also apparently come to the notice of the cyber crime cell, is currently the hottest property of the pornographic video sharing sites titled 'Bollywood starlet's lesbo kiss'.