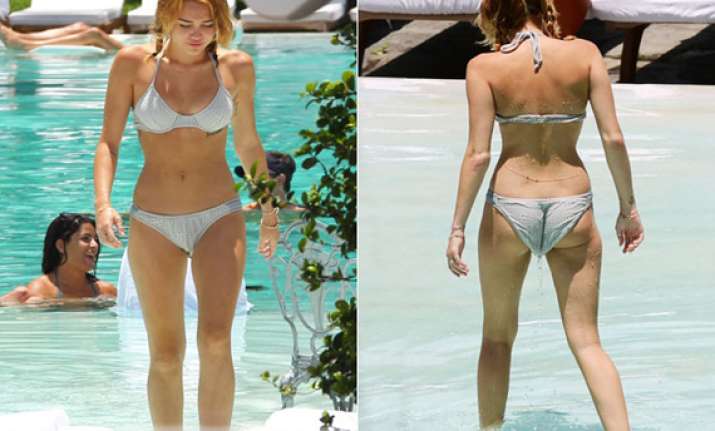 Miami:. Singer and actress Miley Cyrus showed off her well-toned body when she hit the pool in Miami, and the results are impressive.
"Miley Cyrus wore a white bikini and sipped on an iced beverage poolside at her Miami hotel.
Of course, Miley's pool style wasn't enough of a story for gossipers insinuating the 19-year-old singer and actress was having inappropriate contact with an unknown beardo in the pool.
Turns out the bearded young man in question is just a "good friend, and longtime assistant," according to Miley's rep.
His name is Cheyne Thomas, and Miley took to Twitter to call out the nasty rumors on Wednesday.
"So now because I am engaged I can't have a friend of the opposite sex?" she tweeted.
"Can't have a friend help me out while I'm working alllll day? #dumb."
She went on to say: "I miss my mommy and my fiance".
"I love my fiance and he loves me. All the rest is bullsh-t. We get to live a life of happiness no one can take that away from us!"
Fiance Liam Hemsworth was nowhere to be seen, as he's currently in New Orleans filming a new movie.
The two lovebirds met on the set of The Last Song song movie back in 2009.
Ever since they've been together and on May 31 Liam proposed to Miley with a 3.5-carat diamond ring from jeweler Neil Lane.