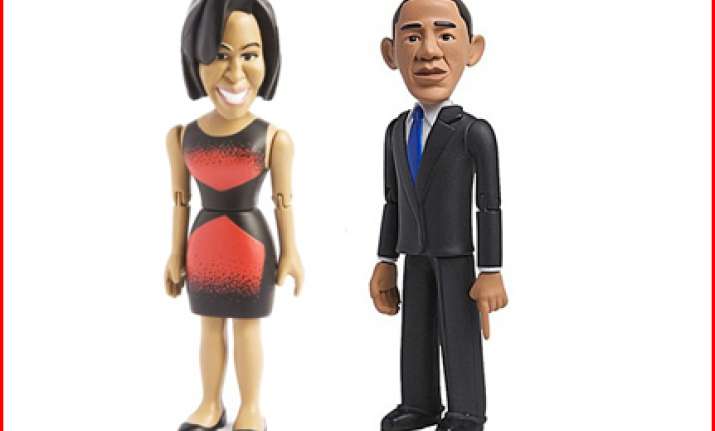 A US toymaker Jason Feinberg of Jailbreak Toys has released  Michelle Obama dolls in the market priced at $ 12.99, reports The Mail, London.
The 6 inch doll is expected to be a big seller during Christmas, and outsell those of her husband, which sold over 200,000 since it was released lat year.
White House officials have refused to comment on the Michelle Obama dolls.  Michelle dolls  comes with three outfits - each tailored to show off her bare arms.
The first has the figure in the purple dress worn when the Obama's shared their famous fist bump during the campaign. Another has her dressed in the red and black dress she wore on Election Night and the final figure has Michelle in the black-and-white floral dress she wore during an appearance on US TV chat show 'The View.'  
On their website Jailbreak toys says the Michelle doll is a must have. It says: 'If there's one person in America who has captured the public's imagination even more than Barack Obama, it's his wife Michelle. So following the runaway success of the Obama Action Figure we simply had to make Michelle because Barack and Michelle are a team in the best and truest sense of the word and you can't have one without the other.  Just like in real life, the Michelle Obama Action Figure isn't simply be a female counterpart to Barack. She's her own lady with her own style and energy and, of course, her own fashion sense'.
Feinberg said his target audience for the new doll is not children but adults 'who collected toys as a child, who haven't lost that kind of whimsical enthusiasm.'
The toymaker said he came up with the idea of the First Lady doll six months ago in response to the popularity of Michelle Obama.  'The entire political scene was a little rosier at the time  But what was really apparent was the country, and really the world at large, were very enamoured of this lady.' 
Feinberg said, President Obama's image was that of a super hero while his wife's was more 'classy'.
Earlier this year the White House objected to toy dolls based on the Obama's children, Sasha and Malia. The makers of Beanie Babies launched two dolls called Marvellous Malia and Sweet Sasha soon after the January Inauguration. But the White House condemned the release with a spokesman saying: 'We feel it is inappropriate to use young private citizens for marketing purposes.'