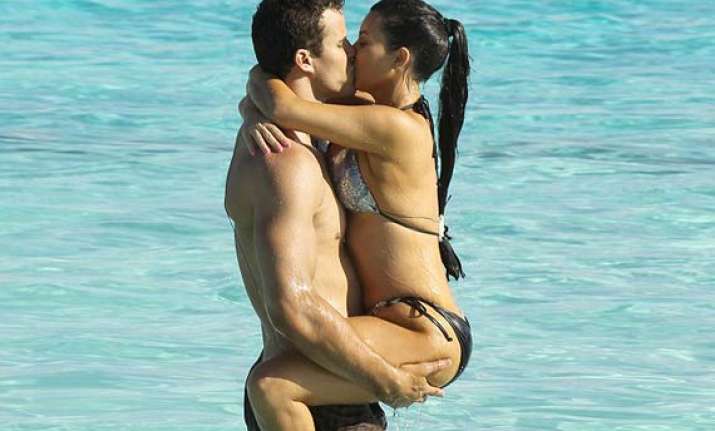 London, June 27: Kim Kardashian and Kris Humphries have a wedding in the works, but the two have already begin enjoying  their honeymoon on Bora Bora island  in the Pacific, reports The Daily Mail.

The engaged couple were spotted frolicking together in Bora Bora after stealing a little alone time while on a family holiday, the report said.

        


It's the first time the NBA player has joined in on a trip away with so many of the Kardashian clan.

Kim invited the New Jersey Nets star to join her and her family on holiday to the Pacific island of last month, after both agreed it would be the perfect time for him to get to know his in-laws.

Speaking to Us magazine, Kim, 30, said: 'Family is so important to me. Kris and I were like, "this is going to be the test".'

                   
They were joined at the Hilton Bora Bora Nui Resort & Spa by her mother Kris Jenner, 55, stepfather Bruce Jenner, 61 and her older sister Kourtney, 32, who came with boyfriend Scott Disick, 28, and their 18-month-old son, Mason.


Also along for the idyllic island ride was Kim's brother Rob, 24, and her half-sisters Kendall, 15, and Kylie, 13.

Unfortunately, younger sister Khloe, 27, and her L.A. Laker husband Lamar Odom, 31, had to stay behind for the NBA playoffs.

But while he was there to meet and be welcomed into the Kardashian clan, Kris was also able to enjoy some quality time with his bride-to-be, who was just his girlfriend of six months at that stage.

They were snapped walking hand-in-hand in the crystal clear surf together and took every opportunity to sneak and kiss and a cuddle.

They spent a romantic night out together at the Bloody Mary's restaurant, bar and yacht club, and Kim showed off her enviable curves in a brown wrap dress which clung in all the right places.

Kim also managed to put on a full display of several sexy bikinis during the week-long holiday which understandably meant that Kris couldn't keep his eyes of her.

But she wasn't the only one who had packed for a beachside fashion parade with big sister Kourtney determined to be as much of a bikini babe as Kim.

And she and boyfriend Scott Disick seemed to be getting on very well, despite their well-publicised troubles, and played the happy family doting over baby son Mason, who looked very cute in his beach shorts as he ran up and down the sand.