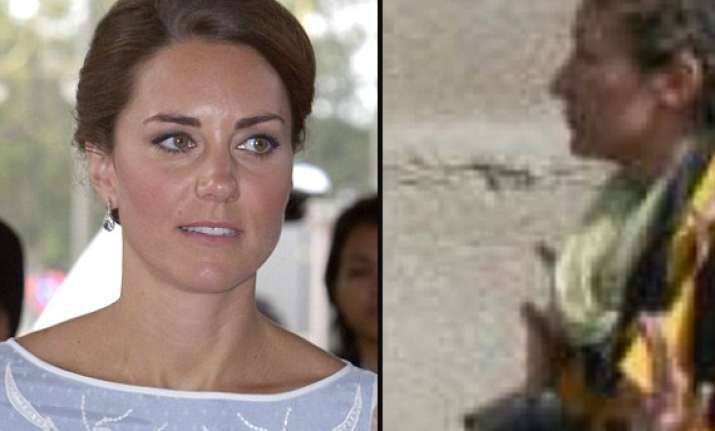 London, Sept 17: Despite protestations from the royal palace that the paparazzo had violated the privacy of the couple, Prince William and Duchess Kate, a female French photographer who filmed the couple sunbathing at the French chateau revealed on Saturday night that they were sunbathing in "full view of the road".
The photographer, Valerie Suau took pictures of Kate in her swimsuit, but not, she says, topless.
She described her pictures, published in France's La Provence regional newspaper, as 'all decent'.
'Valerie is concerned by the fuss and is keeping a low profile,' said  a colleague. Yesterday Ms Suau appeared to have reduced her internet presence, removing her profile picture from Facebook, for instance.
Suau had expected the chateau to be heavily guarded.
'She says she was given free rein to do what she liked – taking pictures of the couple enjoying themselves  in full view  of the road.'
There were other people around, including walkers and cyclists, as well as staff at the chateau.
The Duchess was sure to have known this, and perhaps should have been a bit more careful about displaying her body in such a prominent position.'
Suau, who lives close to Chateau d'Autet, deep in the Provence countryside east of Avignon, told friends there was no sign of British or French police anywhere, so allowing 'any photographer who wanted' to take images.
It will raise further questions over the failure of royal protection police to stop the pictures being taken - or alert the couple to the danger.
Some were shot from a public road on a hill less than half-a-mile from the former hunting lodge, close to the medieval village of Viens, although it is possible to get closer on foot.
The road, and nearby path, offers clear views of the Chateau's raised swimming pool and its sun loungers, where Kate and William spent most of their four day break.
It was from here that a set of intimate images were captured and later published in the French Closer magazine, which is now being sued by the couple for invasion of privacy.
Suau produced one set of pictures on Friday September 7th – the day the couple left. This is the same day that the Closer pictures were taken.
She aimed her camera at the pool at around 1.30pm, where she saw William wearing just a pair of swimming shorts and sunglasses as he read his I-pad.  Kate, meanwhile, was in a bikini.