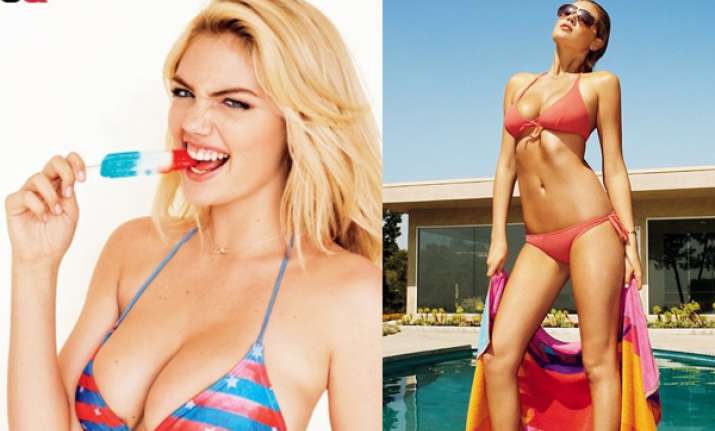 Kate Upton heats up the July 2012 cover of GQ magazine posing provocatively with a red, white and blue Popsicle and wearing a tiny bikini top.
She is the ultimate overnight sensation that managed to become famous for her appearances in the Sports Illustrated Swimsuit Issue, first in 2011, when she was named Rookie of the Year, and then in 2012, when she was announced as the cover model.
Now, the 20-year-old model is pictured in a tiny bright red two piece as she poses in the water.
The seductive snaps have been taken by photographer Terry Richardson who has worked a lot with Kate.
In the accompanying interview with the men's magazine Kate revealed that she spent most of her childhood in skimpy clothing.
She said: 'I grew up in Florida riding horses, so for the majority of my life I was either in boots and jeans or a bathing suit. '
Kate, who has nearly 400,00 mostly male followers on Twitter noted: 'I understand why my male followers like me.… It's like any job. You find your strengths and play them up.'
The blonde beauty also revealed how she was left covering her modesty after shooting a bikini scene while on a ride in Santa Monice, LA.
She explained: 'We were on that ride where the seat spins while the actual ride is spinning, and I'm wearing a one-piece.'
'And all of a sudden the whole entire top falls off!  I'm holding myself, laughing, turning bright red, but a lot of people are watching, so they kicked us out of the Santa Monica Pier—it was so embarrassing…You wouldn't think that would happen with a one-piece!'
Of the looming Tebow/Sanchez boyfriend, ahem, quarterback controversy, Kate Upton said, "I'm going to be less emotionally involved this year." Upton, who has been rumored for months, is dating Sanchez.
The July issues hits newsstands June 26.
What do you think of Kate Upton? Yay or nay?