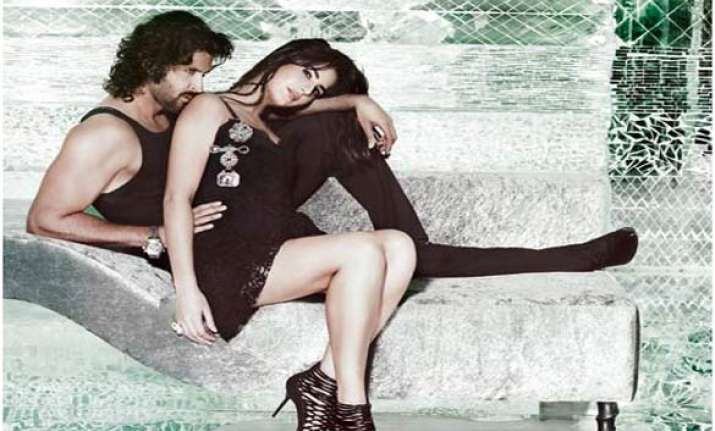 Bollywood director Zoya Akhtar is right now in a dilemma over toning down a 3 minute long kiss between Katrina Kaif and Hrithik Roshan, shot in Spain during the tomatina festival, says a media report.

A few weeks ago, director Zoya Akhtar had to tone down the chemistry between Hrithik Roshan and Katrina Kaif in the song Ek Junoon in her next, Zindagi Na Milegi Dobara.

Reason being it was a group song also featuring Farhan Akhtar, Abhay Deol and Kalki Koechlin. And Hrithik and Katrina's chemistry was taking away the essence of the group number.Now, Zoya is faced with another dilemma; to retain or drastically tone down a three- minute intense kissing scene filmed on both of them.

Revealing the nature of the scene, an insider says: " After a severe exchange of words, Hrithik's character Arjun leaves in a Buick. Katrina ( Laila) chases him on her bike.

"Stopping his car, she forces him out and pinning him on the bonnet, kisses him. And it's a rather long scene, about three minutes long."However, Zoya's predicament triggered from their sizzling chemistry in the Ek Junoon number.

" When they saw the first cut of the song shot during the Spanish Tomatina festival, Zoya felt that the chemistry between the two actors was too much for a group song," recalls the source, adding that the filmmaker also understood the dilemma of the two actors for whom it could get awkward personally.

"Hrithik's kissing scenes with Barbara Mori in Kites and Aishwarya Rai in Dhoom 2 were talked about lot. Kats' liplock with John Abraham in New York was hyped too."

The report says the scene is very crucial as it conveys the strengthening of Arjun and Laila's romance." That's why Zoya is finding it difficult to decide on how much of the kiss to retain and how much to leave out," the report quotes the source.