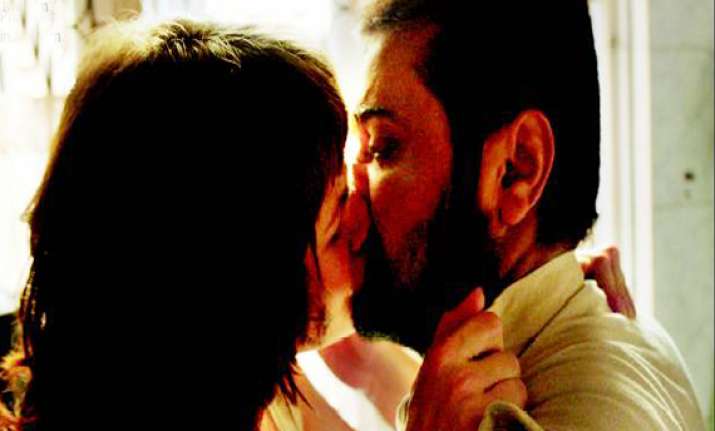 Mumbai : Bollywood actor Kalki Koechlin bit Bengali actor Prosenjit Chatterjee's lips while shooting an intense smooching scene in the film "Shanghai".
Though Kalki has done split-second kissing  scenes in the films 'Shaitan' and 'Dev D',  nobody had seen her smooching for a long time on screen.   
When Shanghai's director Dibakar Banerjee first told Kalki that he wanted to shoot an intense smooching scene between her and Prosenjit Chatterjee for Shanghai, it was imperative that the duo understood the background story of their on-screen characters at Atul Mongia's workshop before filming it. 
The workshop helped, but on the sets, it was a completely different experience, what with Kalki literally ending up biting Prosenjits lips! 
Since it was a bit difficult for both the actors to do this scene, a rehearsal was done at . The location is inside a kitchen.  
Says Dibakar, "Kalki's character is complex.  She plays an Indian with a mixed parentage and looks like a foreigner.
"Living in a small town, she is almost always judged by her looks rather than anything else.  
"While fighting a rough battle in a politically volatile small town, she comes across as angry, vulnerable and idealistic.
"Prosenjit is a well-known social activist who stands for all that is right. There is a strong sexual chemistry between this much older man and this young girl", says Dibakar.