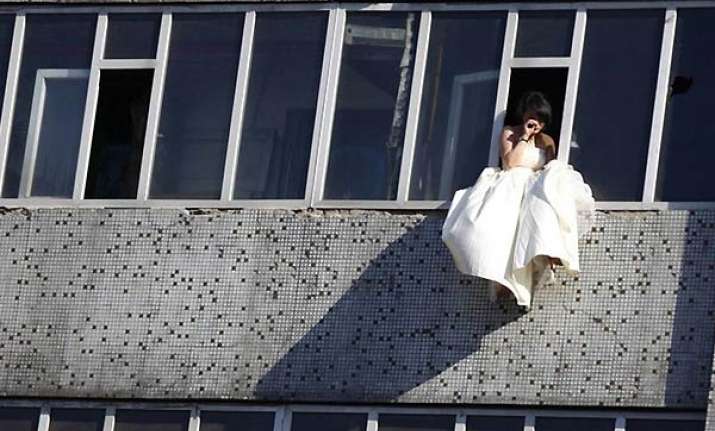 Beijing, May 19 : A 22-year-old bride-to-be in China's Jilin province tried to jump from the seventh floor of a multi-storeyed block on Tuesday, but was rescued from death by community officers who clung to her and bailed her out, reports The Mail.

Hanging precariously outside a seventh-storey window, this is the dramatic moment a bride-to-be was saved from falling to the ground below.


The desperate woman had clambered out on to the window ledge of a residential building in Changchun, Jilin province in China, dressed in a flowing ivory wedding gown.

As horrified onlookers tried to talk her away from danger, the bride-to-be was about fall when she was saved by a local community officer.

Residents leaning from surrounding windows were seen staring in disbelief as the unidentified 22-year-old climbed through a narrow window.


It is thought she had climbed out of the apartment window after her boyfriend of four years broke up with her. They are believed to have been planning to marry.

It is unclear whether the dramatic scenes yesterday took place on the couple's wedding day or during the planning for their nuptials.

She was eventually saved when a local community officer, Guo Zhong Fan, grabbed her and held her by her shoulders and wedding dress.

A second man was seen clambering out from the window directly below to support the woman's feet and assist her rescue.

Zhognfan, an office director in Changchun's Kuancheng district, held one arm around the woman's neck and another round her shoulders before managing to pull her to safety.

As the dramatic episode unfolded, hundreds had crowded in the street next to the building watching the drama unfold.


Emergency services had managed to put up a soft landing surface underneath her apartment window.

It was reported the woman's rescuer then carried her downstairs where he was met by a retired army officer who told him: 'You must've been a soldier before, thank you, you're a great man!'

The woman herself suffered no major injuries and was driven away in an ambulance
At 15:00 on May 17, a 22-year-old woman wearing a wedding dress, sitting in Guiyang Street, Changchun City, Wusong Road intersection with a residential building on the 7th floor window, emotional excitement.
16:22:22 Lee finally full access to the abdominal area above the windows, which few people in the general advantage of the opportunity to pull Lee window. At this point, everyone will be carried down Lee.
The woman perches on the window ledge before being grabbed and hauled back into the flat 
A community officer struggles to pull her upwards to safety back through the open window
Hundreds gathered outside the residential building in Jilin province, north-east China to watch the amazing scenes unfold