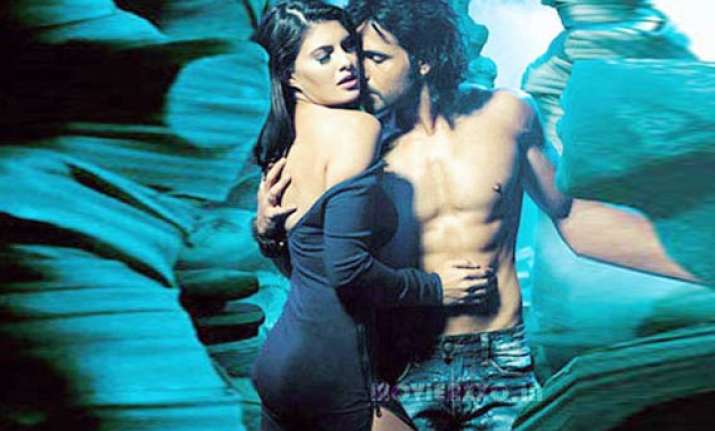 Bollywood's serial kisser Emraan Hashmi and former Miss Sri Lanka Jacqueline Fernandez have sizzled on-screen in the Murder-2 sequel  directed by Mohit Suri for the Bhatt camp.
 
In the film, Jacqueline plays the role of a pin-up girl, and first rushes of the 'bold' scenes indicate that the on-screen sizzling will be hotter compared to the love making scenes between Emraan and Mallika in the original film.
 
But, Jacqueline denies that  Murder 2 is porn. "People are also anticipating steamier and more intense love making scenes in the sequel. All I will say is that you will have to wait and watch. As you know, Murder came in 2005. It will be 2011 when Murder 2 will release so obviously the level will be higher," says Mohit Suri. .
 
The original Murder may have set new standards in permissiveness in Bollywood films when it came out six years ago, but Jacqueline denies there is  any sleaze  in the sequel.
 

There had been speculations in Bollywood that the upcoming Mahesh Bhatt production has a 'pornographic' element.Jacqueline is known for her role as Jasmine in the romantic comedy Aladin starring Big B and Riteish Deshmukh, but the film bombed at the  stills.Now, Jacqueline has  hit the bedroom for some steamy scenes with none other than Bollywood's serial kisser Emraan.
 
Sporting a sexy and revealing Vizyon sequin dress, Jacqueline shows off her curves in this first pic from the movie.
Director Mohit Suri seems to think that Jacqueline fits the profile better than her predecessor. "I signed her as she fits the role very well. Murder is a brand and I feel Jacqueline carries the sensuality that the character required, very well."

Although he insists that the idea behind bringing Miss Fernandez aboard is more about giving the franchise a fresh face: "We wanted  to give the project a fresh look. The first Murder also had a new girl [Mallika], which worked," he says.