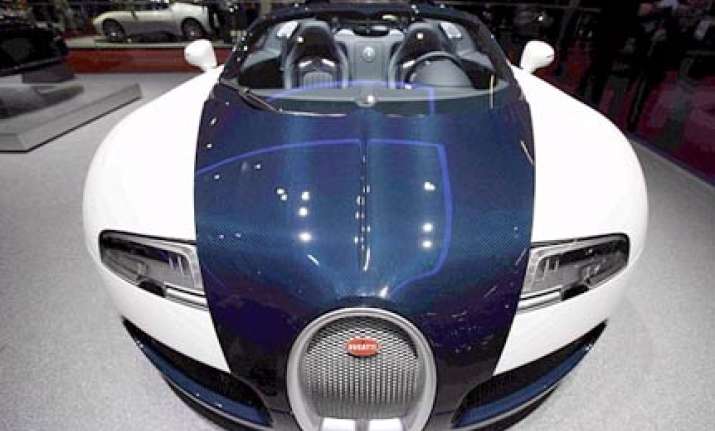 Italian car maker Ferrari is ditching its famous red livery - temporarily at least - as it experiments with going green.
The company on Wednesday unveiled the Ferrari 599, a 200mph electric hybrid vehicle that aims to cut pollution and fuel consumption while retaining the brand's breathtaking acceleration and performance, reports The Mail.
But it remains to be seen whether the 599's ability to start silently and run on a zero-emission electric motor will put off car enthusiasts who delight in the explosive roar of an old-style Ferrari firing up.
The prototype's appearance at the opening day of the Geneva Motor Show in Switzerland stunned visitors.
The hybrid vehicle - which uses the electric motor to back up a more traditional 6.0-litre V12 petrol engine - even sported a bright metallic green paint to reinforce its environmentally friendly credentials. The aim is to have the green technology as an option across Ferrari's entire range of cars by 2015.
But don't get too carried away with the idea that the macho Formula 1 stable has suddenly gone all politically correct in an attempt to save the planet.
Rather, it is being driven by the EU's tough environmental targets to cut carbon dioxide emissions, which could otherwise see Ferrari's supercars squeezed out of the market.
Ferrari reckons the 599 would cost twice as much as the £207,000 petrol 559 GTB Fiorano on which it is based. But by the time the technology has been ' industrialised' in four years' time, the price should come down to below £300,000.
Ferrari's HY-KERS concept, shown at the 2010 Geneva car show, a hybrid concept based on the 599 GTB Fiorano. The normally aspirated V12 engine is supplemented by the electric motor at the rear of the car
The two-seater will accelerate from 0-60mph in 3.5 seconds - quicker than the standard version - and to 125mph in 10.4 seconds.
Under braking, the electric part of the hybrid system 'captures' energy that would otherwise be wasted from braking or slowing down, and uses it to recharge the batteries, which in turn can propel the car by electric power.
CO2 emissions are cut to 270g/km - a 35 per cent reduction on a conventional petrol-only model. It is expected to do up to 25 miles to the gallon, whereas the petrol- only version manages under 16mpg.
A Ferrari spokesman said: ' Ferrari has applied its F1 technology to the design, engineering and construction of a new kind of electric motor which also helps optimise the dynamics of the car.'
The other dream machines unveiled at the Geneva Motor Show
Mercedes CEO Dieter Zetsche and his formula 1 drivers Nico Rosberg and Michael Schumacher from right, present the new Formula One safety car - a gull-wing Mercedes SLS - at the Geneva Motor Show
Mercedes also showed off its F 800 Style Concept, a 187-inch long four-door 'sport coupe' designed to be a plug-in hybrid and a fuel-cell car
Porsche unveiled 918 Spyder, a mid-engined two-seater, which combines the performance of a super-sports car with the CO2 emissions of a small compact, an innovative plug-in hybrid concept reducing emissions to just 70 grams CO2 per kilometre and fuel consumption to 94 mpg
Bugatti shows the Galibier 16 C concept luxury limousine at the Volkswagen Group event in Geneva. The four-door car features the 1,000hp engine from the firm's record-breaking Veyron
Top down: A Bugatti Veyron roadster car is displayed on the exhibition stand of Bugatti during the first media day of the 80th Geneva Car Show