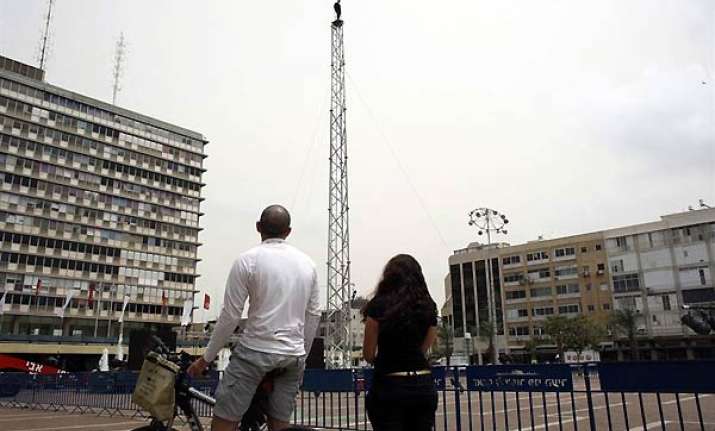 Jerusalem, May 18 : Israeli illusionist and endurance artist Hezi Dean was this morning raised to the top of a tower by a crane in a bid to perch on it for over 35 hours, at Rabin square in Tel Aviv, Israel.

He began the stunt this morning in an attempt to break the record of American illusionist and endurance artist David Blaine.


Israeli Hezi Dean was lifted to the top of the tower in Tel Aviv this morning by crane and aims to remain there for 35 hours.

Blaine managed to stand on a tower in Bryant Park, New York City in 2002 for 35 hours.

Dean was raised on to his 89ft-high tower today where he will try to remain with no food until Thursday evening.


To complete his death-defying act, he plans to leap off... into a stack of cardboard boxes.

And it wouldn't be the first time he has broken one of Blaine's records.

It's not the first time Dean has followed in Blaine's footsteps. In early 2010, he spent 66 hours entombed in a block of ice, topping Blaine's 63 hours which he achieved in 2000.


During Israel's White Night Festival in Tel Aviv in July last year, Dean amazed onlookers with his acrobatic display while being suspended between three skyscrapers, hundreds of feet above the ground.

His tricks included escaping from a straightjacket while dangling above the crowds.


The Israeli, again following in Blaine's footsteps, is a talented musician.

Although Dean may be a causing a stir with his mind-boggling array of tricks, neither this illusion nor the ice block act are his own work, as both have been done previously by Blaine.

Blaine's most noted work includes his 'premature burial' where he lay in a glass coffin in front of a New York office building for people to watch him, 24 hours a day.


He was reportedly only fed 44 tablespoons of water each day and he emerged on schedule, a week after entering. We will find out tomorrow if Dean is capable of breaking yet another of Blaine's records. However it may take more than this for people to believe he really is the 'next David Blaine'.