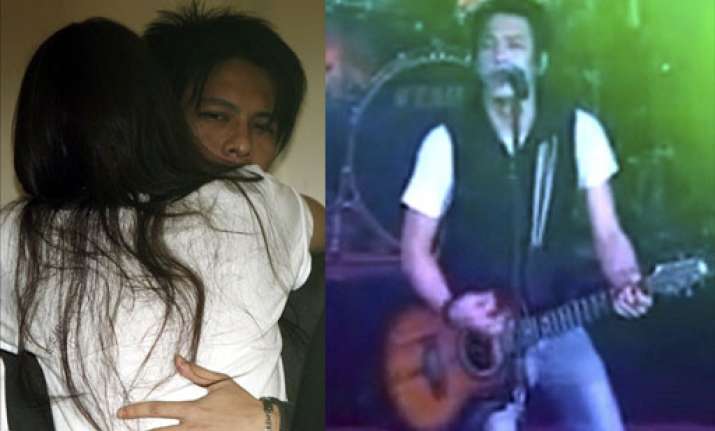 An Indonesian pop star  was sentenced to three-and-a-half years in jail after his homemade sex tapes found their way to the internet, reports Daily Mail, London.
Fans of Nazril 'Ariel' Irham broke down in tears, saying the singer recorded the videos in the privacy of his own home with no plans to make them public.
But hundreds of Islamic hardliners surrounding the court tried to smash down its gates, saying he'd gotten off too easy.
Indonesia, a  country of 237 million people, has more Muslims than any other country in the world. Though most are moderate, a small extremist fringe has become more vocal in recent years.
They have pushed through controversial laws - including the anti-porn bill - and been known to attack anything perceived as blasphemous, from transvestites and bars to 'deviant' religious sects.
Ariel, supported by his television star girlfriend Luna Maya, is pictured speaking to reporters while waiting for the verdict
More than 500 demonstrators turned out earlier today, some pelting the police vehicle carrying Ariel to the court with rotten eggs and tomatoes. Others held placards criticising the star.
When the verdict was read out, a man on a bull horn shouted, 'Too light! Too light!' and others charged past police to the gates of the courthouse.
Luna Maya and Ariel react to the sentence, which many Indonesians regard as too harsh
'More years for Ariel!' shouted Kurnia Maryati, a 33-year-old mother of three who was wearing an Islamic headscarf.
'He made a porn movie that's harmful for our children,' she said. 'I'm sure many followed him after they downloaded the videos on their mobile phones.'
Muslim group members clash with Ariel fans following his trial. While his supporters say he was unfairly convicted, extremists claim Ariel should have been jailed for up to 12 years.
The videos were made public in June.
The first six-minute clip purportedly showed Ariel in bed with his girlfriend, Luna Maya, a top model and actress who joined him at the court. She broke down in tears when the ruling was read out.
The second clip showed him with a former girlfriend, also a well-liked model and television presenter.
The singer's supporters were devastated with the judge's decision.
'He's just a victim,' said Roslawati, 30, streaming tears.
'He didn't post that video ...' Like many Indonesians, she uses just one name.
Sign of the times: Muslim groups held an anti-pornography rally outside the Bandung court