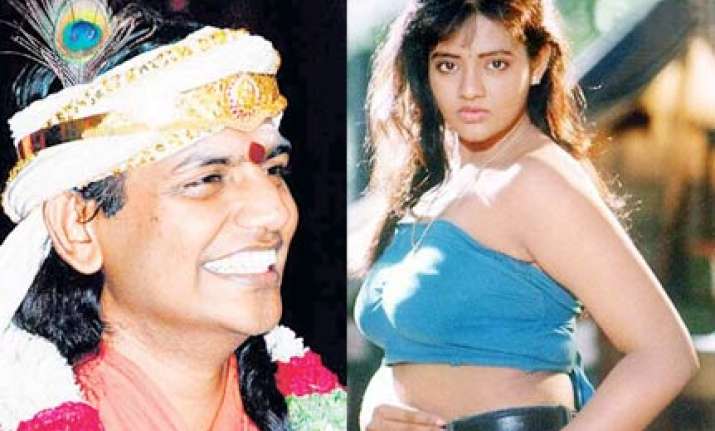 Tamil actress Ranjitha, who went into hiding after being caught on camera while indulging in sexual acts with Swami Nityananda, finally come forward to give her statement on Tuesday.
Ranjitha justified her acts by saying that she was just giving her 'offerings' to the godman.
In an interview to a Tamil website, Ranjitha said that she has known Nityananda for quite some time and is grateful to him for curing her wheezing trouble in just a day.
The actress said, "The media has unnecessarily blown the issue out of proportion. I know swamiji for the past few years and my association with him is quite transparent.
As a true devotee, I offered my services like feeding and massaging him regularly in his room. I used to stay with him till late and the ashram inmates knew about it."
Ranjitha, however, was very careful with her words and not once did she talk about the 'sex issue'. She carefully evaded the topic and neither accepted nor denied her sexual acts in the video.
Instead, she strongly denied the allegation that she is trying to cash on the sex video shot by Nityananda's onetime associate Lenin Karuppan. She said, "I know my Swamiji. He is a great atma and will come out as a pure atma soon."
Ranjitha also denied a rift with her husband. "These are mere speculations," she said. Swami Nityananda in the meantime is expected to explain his stand on March 18.
In a press conference on Monday, his press coordinator Nithya Sachithananda said, "The godman's personal security was at risk. He has been advised to come out only after a few days."
Pointing out that his organisation was consulting legal experts, Sachithananda questioned the technological knowledge of Nityananda's close aide Lenin Karuppan, alias Dharmananda, who is believed to have secretly filmed Nityananda's sexcapades in a room within the ashram premises.