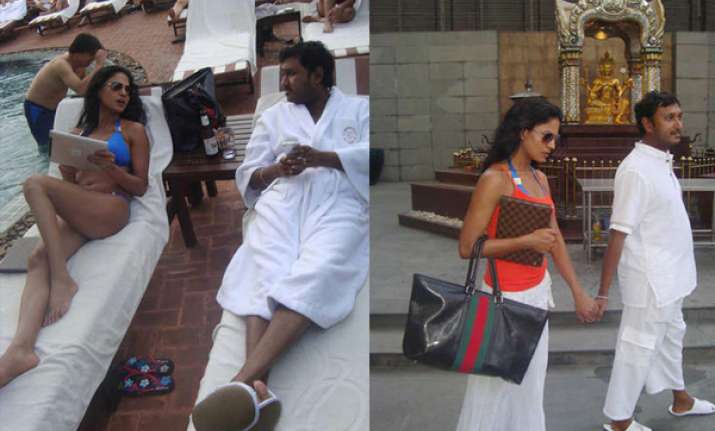 Mumbai: Controversy queen Veena Malik caught with film director Hemant Madhukar again and this time she was seen in blue bikini enjoying by a poolside with the director.
Madhukar's wife is hugely disappointed with Veena's growing closeness with him which has forced his wife to think of separation.
The recent images show Veena in a blue bikini enjoying a beer by poolside of a resort, while her new lover in a bathrobe sitting by her side, admiring her. 
In another image, the director is helping Veena Malik in choosing a hot bikini in a lingerie shop.
Veena and Hemant were also caught on camera while getting a fish pedicure together. In another image the duo is walking hand in hand.  It's evident that Veena is enjoying all the attention, love and care bestowed on her by the director.  
Earlier when veena caught with director taking alcohol and getting cozy she said,  "first of all, let me clarify I do not drink alcohol, and it's my right with whom I wish to go to dinner, and that too, in a group."
"The photographs that were taken are misleading.  Moreover, it's unethical to take such personal photographs. I have a good working relationship with my director Hemant, but this does not mean that I will stop living my life as I wish
Veena was first seen with Pakistani Cricketer Mohd. Asif, next was Big Boss co- contestant Ashmit Patel and now she has fallen in love with her 3D movie director of 'Mumbai 125kms'. Veena boldness and daring activities during shooting attracted Hemant Karkare towards her.
Let's wait and watch when Hemant Karkare or Veena Malik come forward and accept their relation before the world.