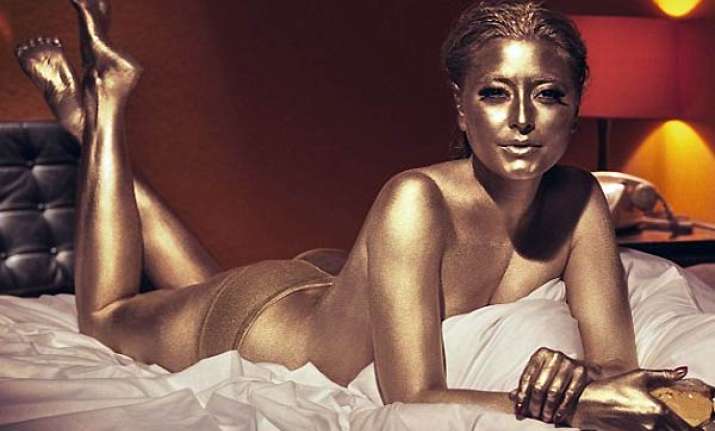 Los Angeles:  Holly Valance  attracted a few negative comments earlier this year when she was spotted looking curvier than normal.

She is back in shape, judging by photographs of the actress showing off her figure in little more than a pair of hotpants as she recreates the famous James Bond Goldfinger pose to promote the launch of Foster's Gold, reports The Daily Mail.

The 28-year-old is seen covered head to toe in gold paint as she reclines sexily across a white bed in the stunning new photographs.
The new shots of Holly come as the actress helps launch Foster's Gold, a new premium bottled lager.

Former Neighbours star Holly will also be starring in a multi-million pound television and print campaign, alongside Foster's favourite beach buddies Brad and Dan, from August.

Talking about teaming up with Foster's, Holly said: 'It is with great pride that I'm working with such an iconic Australian brand! And it helps that I'm a loyal beer drinking Aussie girl myself!'

And Gayle Harrison, Marketing Manager of Foster's brand owner Heineken UK, added: 'We are delighted to be working with an Australian icon like Holly.


'Like Foster's, Holly is down to earth and easy going but occasionally she wants to "dress to impress" which makes her the perfect girl to launch new Foster's Gold.'

Holly was seen looking curvier than normal as she attended Royal Ascot with boyfriend Nick Candy in June.

And although Holly had been tweeting she was following James Duigan's 'clean and lean' diet recently, she has always insisted she could never be 'part of that whole skinny thing'.

In an interview in 2007, she admitted she felt under pressure to lose weight while living in Hollywood.

She said: 'I thought to myself, "God, I'm disgusting". But then I got back to LA and saw the footage and thought I looked great – really fit and healthy.

'I could never be part of that whole skinny thing and I don't know how people drop weight so quickly either.'