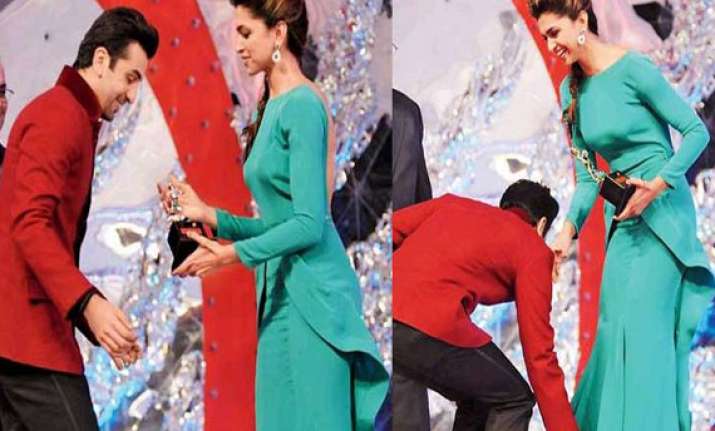 Mumbai, Jan 17 : Bollywood actor Ranbir Kapoor touched the feet of his ex-flame Deepika Padukone while collecting the Best Actor trophy from her at the Colors Screen awards at MMRDA grounds.

Deepika along with former 'showman' Subhash Ghai  was to hand over the trophy to RK, yes, the very RK whose name she has tattooed on her neck.

When Ranbir arrived on the stage, he first bent down and touched Ghai's feet. And then took everyone by surprise when he again stooped to touch Deepika's feet.

Deepika took it sportingly and  laughed heartily before handing over the trophy to RK.

Deepika too won the Popular Choice award for Aarakshan.

But it was the trio of Prateik, Sharman Joshi and Mugdha Godse who gave her the trophy.

Ranbir and Deepika are slated to feature together in Ayan Mukerji's Yeh Jawaani Yeh Deewani.