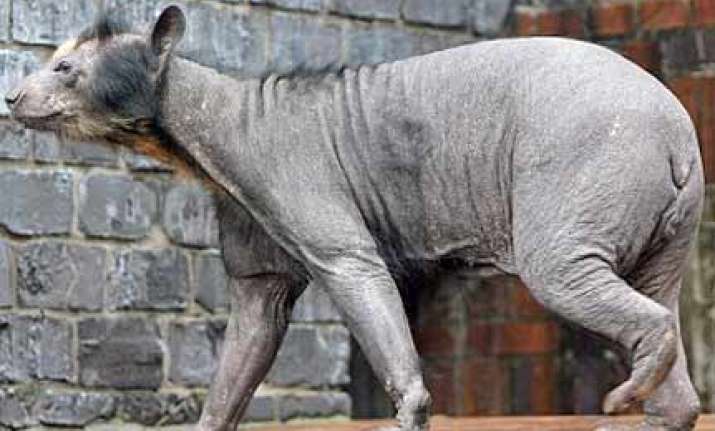 Dolores, a spectacled bear at the zoo in Leipzig, Germany,  has a condition which means she is totally bald, reports The Mail, London. 
She has  gone bald not just on her head but all over her body.
Veterinary doctors are baffled about what has caused the sudden hair loss which has affected all female bears at the zoo.
It could be due to a genetic defect but the animals don't seem to be suffering any other afflictions.
All the female bears at the zoo have the same condition. They have become a bit of a crowd puller.
The normally fluffy dark brown bears should be now growing a thick fur coat to keep them warm during the winter.
One thing the lack of hair shows up in their huge, lethal claws.
But instead the bears, which once originated from South America, have begun developing nasty rashes and inflammations on their skin where their glossy coats should be.
Dolores still has a ring of fur around her face. Her lethal claws are clearly visible.
Unfortunately for the bears, their lack of hair has been pulling in the crowds who want to see want to see the wrinkly animals who just have a few tufts of fur left around their face.
Hopefully the zoo will be turning up the heat in their enclosure during the winter to compensate for their lack of fur.
This is how Dolores would have looked before she lost her fur. The spectacled bears have a thick, dark coat normally