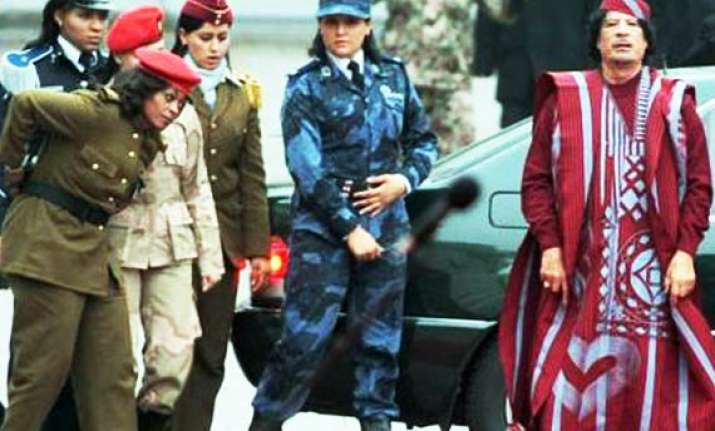 London, Nov 15: Former Libyan dictator Muammar Gaddafi was a sex addict who had a penchant for young women -- many of whom were his bodyguards, his close aide has revealed.

"There were four or sometimes five women each day. They had just become a habit to Gaddafi. They would go into his bedroom, he would have his way with them and then he would come out like he had just blown his nose.

"They all had sex with Gaddafi. The more canny of them became wealthy from his gifts of villas or large sums of cash," Faisal, Gaddafi's chef of seven years, told 'The Sunday Times' newspaper.




Faisal claimed that some of the women his former master bedded suffered so badly that "they went immediately from his bedroom to the hospital" to be treated for internal injuries.

In fact, Gaddafi, who once bedded at least four women just hours before meeting Britain's Prince Andrew for trade talks in Tripoli, was so addicted to anti-impotence pills that his Ukrainian nurse urged to him to reduce the number of drugs he swallowed every day, the 29-year-old chef said.




The former Libyan despot even picked up victims at his former alma mater, Tripoli University, where he gave lectures and then led the young women to a nearby room whose only furniture was a double bed, he said.

Faisal claimed that another aide was once sent to a sex district of Paris, to buy a machine that Gaddafi used to apparently lengthen his penis.




Gaddafi was particular about his looks and used make- ups and treatments with green tea to hide his wrinkles, said Faisal, who was captured along with his former master by the National Transitional Council forces Sirte last month.

Gaddafi was killed after his capture.