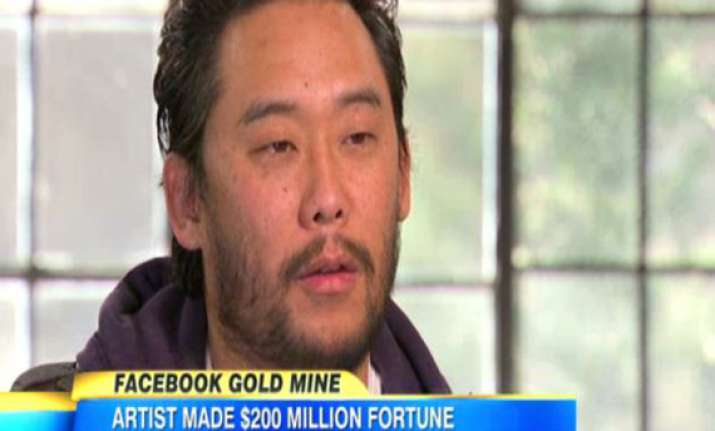 New York, Feb 12:  Facebook IPO Graffiti  artist David Choe , who will net $200 million in the Facebook IPO, says he was offered oral sex every day for the rest of his life, in exchange for a
$2 million slice of his new wealth.
David Choe gambled on stock, turning down cash, when he painted the Facebook headquarters in Palo Alto back in 2005, a decision that will make him an overnight millionaire when the

company makes their initial public offering later this spring, reports Daily Mail. 

The 35-year-old took a considerable risk when he turned down $60,000 cash for a social networking website that he regarded as a pale imitation of MySpace.
But while most of us would be ecstatic to find ourselves a millionaire 200 times over, the art school drop out says he hates his new found fame and fortune, as it means that 'more people will

bother him', Good Morning America reported.

Choe said he was at home in bed when he first realised he'd been outed alongside around 1,000 Facebook employees who will become millionaires after the blockbuster $5 billion flotation.
He said: ' I got a text from a woman I hadn't spoken to in five years and she offered me oral sex every day for the rest of my life for $2 million.'

'Just out of the blue. It was out of nowhere and I was like 'What the hell is happening?''The anguished artist places more value on his privacy than the money.
He explained: 'I cannot buy my privacy back. Every news organisation in the world is beating down the door trying to get an interview and I'm like 'Oh my God'.

Many of Facebook's employees have made bucket lists with elaborate plans for going into outer space or buying property. But Choe, who served time in jail in Japan, for passing forged

cheques and stealing, says the money won't give him any more opportunities than he has already had.
He said: 'It's going to sound horrible for me to say money is meaningless. But everyone's like 'What are you going to do now that you have all this money and freedom? ''

'I did everything I wanted to do when I had nothing. I'm still going to do whatever I want, except more people are just going to bother me now.'

Asked why he took stock he told GMA: 'I like to party. I like to gamble'Choe, who was born in America to Korean immigrants, paints city scapes, abstract forms and lots of woman calling his
art, 'my therapy'.
The self-declared misfit's art is now in Facebook offices all over the world, he says. But it wasn't always so warmly received. Sean Parker at first called it 'schizophrenically distracting' and

asked him: 'There's nothing more for you to add to it?'
In 2003 Choe served three months in a Japanese prison for hitting a security guard. While inside he continued to paint, using whatever was to hand, including his own urine and blood, he told
GMA 'I would use the soy sauce,' he said. 'And I don't want to be gross, but I would use urine and blood and all these things, and anything that would create any kind of pigment. ... It was the
only thing that let me keep my sanity.'
Now success has come his way- a portrait he painted of Obama even hangs in the White House. Choe sold some of his stock a while ago, but will still have an estimated couple hundred million

dollars after the exchange, he said.
'Don't feel sorry for me,' he told Walters. 'This is like a godlike amount of money, where I could actually change the world and do things to help humanity and do good things.
'As an artist, I often wonder what my purpose is or why I do what I do," he said. "So those things will hopefully come into more clarity, or maybe not. I don't know.'
Choe reportedly considered the idea of Facebook 'ridiculous and pointless' at the time of his painting, reported the New York Times.